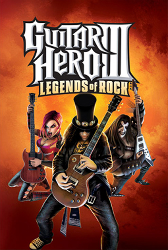 This week, we've got a guest post from Jenny Williams.
In recent years, it has become quite acceptable to find yourself at a party being challenged to perform your best SingStar song. Since 2005, with the release of Guitar Hero, play-along gaming has got bigger and bigger. We've been given SingStar, DJ Hero, Lips, Rock Revolution and even Easy Piano on the DS.
Meanwhile, the Mix Me In iPhone app by Fried Green Apps has reached the 'New and Noteworthy' section of Apple's App Store. Musical technology has reached every corner of the gaming market.
But, as we're busy being Guitar Heroes, Elton John on the DS piano, in the Beatles' rock band and a DJ for Jay-Z, has play-along music gaming reached a dead end?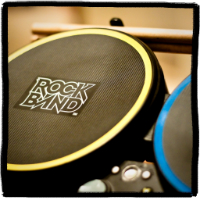 I spent many evenings during my teenage years attempting to master hammer-ons and pull-offs, which is more innocent than it sounds. To surpass playing 'Chopsticks' or the introduction to 'Smoke on the Water' by Deep Purple, learning to play the piano or guitar is an often a painstaking process, requiring hours of practice.
However, within moments of loading Rock Band, I have received 100% rating at The Beatles' Hello Goodbye and am boasting my musicality to my whole family. Result! What could be more fun than having your ego stroked while pretending to be a rock star?
Never mind that 'Guitar Hero' guitars look essentially like Early Learning versions of grown-ups' guitars, teenage boys across the world are happily trading in requests for a real Fender Stratocaster for a Rock Band version with buttons big enough for inpatient beginners.
After all, this isn't about achieving musical finesse, Rock Band is about mimicking your musical heroes in your front room.
Not everyone is happy about the rise of this musical gaming foolery. In February 2008, NanaOn-Sha CEO and PaRappa the Rapper creator, Masaya Matsuura, famously challenged play-along music games at the D.I.C.E Summit in Las Vegas, saying the genre was growing stale and was in need of new ideas.
Admittedly, this type of gaming has its limits. Once you've demonstrated your rockability to your friends and stayed up 'til the wee small hours perfecting your Rock Band drumming, there is nowhere else for the game to go. But musical games are beginning to bridge the gap between fantasy and reality.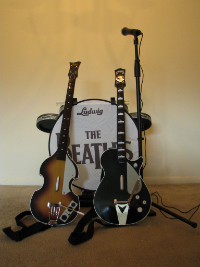 Following on from the popularity of play-along games, the release of Easy Piano on the Nintendo DS last month saw the launch of a musical tutorial game, complete with plug-in one octave keyboard. It's no substitute for piano lessons; the layout is much the same as Rock Band, responding to on-screen prompts. However, basic musical theory is introduced. It's like your Mum sneaking cabbage into your mashed potato when you're a kid: play-along gaming with educational benefits.
So, perhaps, as music games keep developing to incorporate more complex musical features and theory, gamers will continue to move closer to achieving musical hero status. Heck, gamers might even be inspired to pick up a traditional guitar and become real-life musical geniuses.
In the meantime, I'm merely happy with the delusion. the gaming market has made us all think we could really be music stars if we gave up our day jobs and transferred those colour-matching skills to the piano keys or guitar frets.
Jenny is a freelance journalist and editor of her very own tech site, Witch Tech.