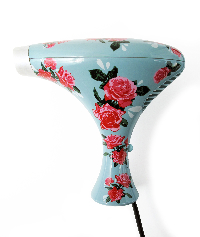 I don't know about you but I'm always a bit disappointed with hairdryers in hotels – not to mention when I go to stay with my mum, who is still using one from of the seventies – so I usually lug my own along with me. It's a great big, years-old hefty thug of a hairdryer, but the reason I like it is because it's powerful, and you can't beat a good blast of hot air when you want to do your own blow dry before a big night out.
Having said that, I'm always on the look out for something smaller which does the job, but travel dryers never seem to quite cut it when it comes to the power stakes, and usually they are just plain ugly.
Thankfully, the vintage style, floral pattern travel dryer (£21.24 plus p&p) from www.looksgorgeous.com is cute, lightweight and very portable.
It comes in a zip-up travel pouch, has an 800w motor and two power settings, and is available in a choice of plain powder pink and dusky blue as well as a retro floral print.
I tried it out on my shoulder-length hair and while I can't say it did a quick job of drying it, it is certainly a pretty creature, and its moulded handle made it comfortable to hold. If you can't bear to travel without your own hairdryer, then this is a good retro-girly choice.
Gains points for
Extra-long power cable – at 5' 10" I could dry my hair standing up
Neat carry case to keep it tidily tucked away
Loses points for
Not particularly powerful – took 20 minutes to dry my shoulder-length hair
Conclusion
Its tiny size means it's not the most powerful of dryers, but what do you expect from something so dinky? It'd be perfect for retro glamour pusses on the go, or little girls with smaller hands who are into all things pretty for their dressing tables.