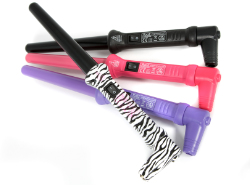 I'm not a particularly high-maintenance girl (I work at home, I live in the countryside, the only person I see all day is my dog – and yes, I realise she's not technically a person either) but when I go out (infrequently) I like to make an effort with my hair and do possess a pair of GHDs.
The thing is, I can't get them to work that well when it comes to creating curls that stay in place without using gallons of fixing products, so when I heard about the new YOGI curling wand (RRP £59.95) I thought I'd give it a try.
It's basically a ceramic wand that plugs into the mains, heats up and is ready to use in an instant. It comes with a pair of heat-proof mitts so you don't burn your fingers as you wind the hair around the wand. Since you have to hold the strands of hair in place yourself while the heat does its thing – there's no 'clip' mechanism like you used to get on hair tongs of old – these are a very good idea.
Now I have very unremarkable hair. Long, flat-ish, a bit dry at the ends, neither thick nor thin, some highlights and that's about it. After my lack of success with GHDs I wasn't that optimistic to be honest. I wound up, counted to ten (give or take), let go of the end of the hair and slid the wand out. And there, indeed, was a curl.
So far, so good, but did it last? Depending on the thickness of the strand of hair you wind you can create anything from ringlets to waves. Although on my hair they did drop a bit throughout the day, I still ended up with curls at bedtime without me having to put any kind of product in my hair at all. As a low-maintenance girl, I call that a result.
Gains points for
Super-long flex cord so you've got plenty of room for manoeuvre
Heats up very quickly and cools down fast as well
Curls that last all day without extra product in the hair
Loses points for
🙁 Heat-proof mitt is a great idea but fiddly until you've got used to it
🙁 If you want a heat-proof mat to rest them on you have to buy it separately
Conclusion
A good buy. I used them this morning and have taken the dog crashing through the woods, done a day's work, watched a bit of Jeremy Kyle (although that's enough to make your hair curl in itself) and the curls are still there, and will still be in place when I get to gad about on the town tonight (OK, my local up the road).