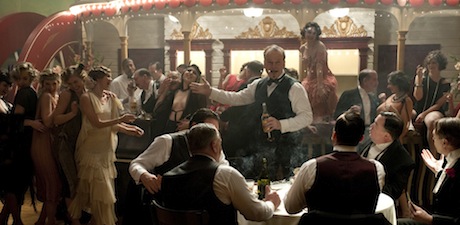 Lena Weber writes… Last week I received a subpoena from the State of New Jersey.
I was told in no uncertain terms I had to take part in an important undercover operation to bust a gang of liquor smugglers which required me to dress in original Twenties gear, drink gin, watch the first episode of Boardwalk Empire Season 2 and have fun.
It was a hard decision but I decided to comply, which is how last night I found myself at a secret North London location where I was whisked off into a boudoir full of vintage to be dressed up – sorry, disguised – in a beautiful, heavily beaded mint green Twenties gown. Once my hair and make-up had been done in period style, I was deemed ready to infiltrate the suspects in a candle-lit bar.
Inside the Speakeasy
The party was already in full swing with girls in feather headdresses tapping away to music played on a gramophone, while men with slicked-back hair and checked Tweed suits sat together – surely to plot breaking the Prohibition law.
I decided to have some gin cocktails, you know, as to not raise any suspicion, while listening to a wonderful band play the Charleston followed by a very sultry fan dance by showgirl Sophia St Villier.
How terribly immoral!
We were then ushered to another room decked out as a cinema where we got to watch the brand new first episode of Boardwalk Empire Season 2.
It was a fascinating viewing – with more pace and thrills-per-second than the first season. The new story lines draw you in with a perfect mixture of suspense and humour, and topics that are still relevant today (racism, women's position in society, marital infidelity) – not to mention the incredible costumes.
It'll be interesting to see if they can keep up the pace of the new season — the last series got criticised for becoming a little more "bored walk" than boardwalk. But with some great actors on board, including Steve "Nucky Thompson" Buschemi and Michael Kenneth Williams (Omar in The Wire, Chalky White in this), as well as some serious production and writing chops (writer Terence Winter worked on the Sopranos and Martin Scorsese directed the pilot), there are worse ways to spend your Saturday evening TV sessions.
Boardwalk Empire, Sky Atlantic HD (Saturdays 9pm, Wednesdays 10pm, Sundays 11.20pm)