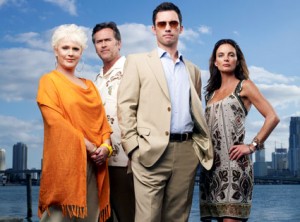 It may not be sci-fi, but cult hit Burn Notice has all the elements of a massive geek telly hit.
Firstly, there's the fact it's shown in the USA on cable channel the USA Network, making it a bit of a hidden secret – despite the fact it often gets better ratings than network shows. Then there's Bruce Campbell. Yes, he of 'Bubba Ho-tep' fame, and countless B-movies. He's in it. Alongside the tanned and tiny Gabrielle Anwar, and relative unknown Jeffrey Donovan, aka that bloke from Hitch.
In the UK, the show's been picked up by the always reliable FX (home of Dexter, True Blood and the like) and is already onto season two. So if this is your first time hearing about it, you may have some catching up to do…
The plot
The premise is pretty simple. Ex-spy Michael Westen wakes up in a hospital in Miami to find he's been 'burned'. That is to say he's been dismissed as unreliable by his employers. His bank accounts have been frozen and his identity has all but disappeared. Together with ex-girlfriend Fiona and best mate Sam he's stuck in Miami trying to find a place to live, a way to make money and a way to work out what the hell happened to him. Thus the story begins…
Is it any good?
This is not a show that'll test your brain power. It's glossy, silly and perfect brain mush. You'll soon be won over by Michael's easy charm, scarily white teeth and yoghurt obsession. Sam (Campbell) is suitably amusing as the comic light relief and Fiona (Anwar) is the eye-candy, appearing on screen in increasingly skimpy outfits as the episodes go by. As Michael looks for ways to make cash, he finds himself taking on protection jobs, hunting down missing people and generally mucking around with people's lives, blowing things up and using his spy knowledge to solve the problems of various Miami residents. All this while trying to hunt down the person who burned him.
The pilot has it's problems, but almost all of them are addressed and fixed in the second episode, at which point the show really gets its wings. Fiona's backstory (she's a supposed ex-IRA guns specialist) is all but wiped as she ditches the Irish accent for generic America (ironically, Anwar is English). Sam's mom's awful wig also disappeared come episode two – boys may not notice it but I definitely did.
Should I watch it?
This isn't going to set the world alight, but give this a go if you're looking for the antidote to plot-twist heavy shows like Lost, overly sentimental primetime telly or grim sci-fi like BSG. It's fun, it's frivolous, it doesn't take itself too seriously, and it has some great little touches that'll make you giggle. Season two ups the ante (with an obvious budget boost) and more of the great insider knowledge – did you know that the best fake C4 is shop-bought ready-to-roll icing?!
Burn Notice season 2 starts on FX on 12th October and continues every Monday at 10pm.