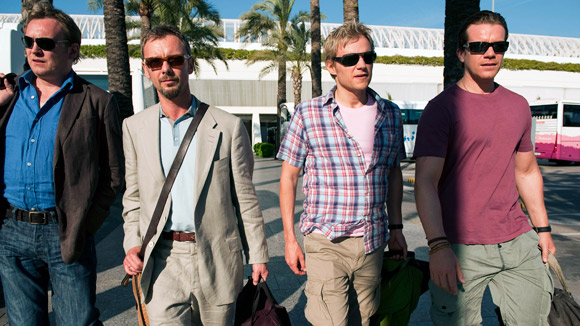 This being the era of the iPlayer, we're not necessarily expected to watch series as they go out, even big glossy psychological dramas with insane casts, as is the case with Sky 1's Mad Dogs. So I'm not in the least bit ashamed to admit that I'm a week behind on this show (ok, I am a little) — and have my fingers ready poised by my ears lest I come across any pesky spoilers…
I have to say that, while going all fangirly over the strength of the cast — which brings Life On Mars dream team John Simm and Philip Glenister back together, plus the always-excellent Marc Warren — I had my 'only the Beeb tends to make good drama' blinkers on when it came to approaching Mad Dogs. But, while far from perfect, there's a lot more to this drama than good actors phoning it in while on a jolly in a rather beautiful-looking Majorca.
Perhaps it was a case of the trailers giving the wrong impression, but I thought this was going to be a whole lot more laddy and lairy than it turned out to be. The four middle-aged gents visiting their old friend's villa do go out for a big night on the town, but they can't really be bothered with it any more and, in fact, this story of a boys' holiday gone wrong had a genuine menace to it, thanks to a sedate pace (perhaps at times a little too sedate) and lingering, quiet direction.
And the script was surprisingly subtle.
There were some lovely, techy exchanges between the characters; such as Simm and Glenister (I like seeing them acting together again, what I can I say) bickering over whether it's ok for an Englishman to use the deeply American phrase 'take a cappuccino', and old grievances slowly coming to the fore.
Nice performances and gorgeous to look at, this may have been a low-key start, but actually, that was Mad Dog's greatest asset.
Kane got us lookin' so crazy right now
When the production team for this year's Let's Dance for Comic Relief sat down for the first time, you just know what was top of the agenda: which male comedian is going to dress as a woman, and how the hell are we going to top Robert Webb's Flashdance and Rufus Hound as Cheryl Cole?
They answered the first question with the name Russell Kane, Edinburgh Comedy Award winner and all-round top bloke who slipped into a wig and fake boobs (and, one imagines, instantly bagged himself the trophy) as Beyonce in her fabulous Crazy In Love video. As for the second question, he was probably a little more tentative than Webb and Hound (and, the forgotten couple in all this, the genuinely joyous performance from Keith and Paddy) but he was still pretty ruddy marvellous.
The others were, and were always going to be, also-rans, but whoever came up with the idea of having Katie Price do I Want To Break Free deserves a medal (even if it was better in theory than in practice) and Ed Byrne put in a great turn as Billy Elliott, with Arlene Phillips guesting in the Julie Walters role.
Next week, hold onto your hats because Boosh and Buzzcocks star Noel Fielding is going to dance….