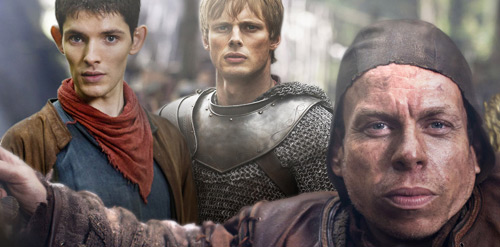 After years of family-friendly Arthurian drama, Merlin lurches into surrealism this week, with the sudden appearance of strange filters, stabbing isolation and a lobster as metaphor for our unfulfilled desires.
One of those may not be true. Regardless, an odd episode at times. But was it a victorious experiment, or an unfortunate exercise in trying and failing?
Prince Arthur Versus Killer Chilli
So, as he often does, Arthur goes on a quest. Merlin discovers that Evil Morgana has tried to sabotage it, so he follows to try and assist. Oh, and he takes Gwaine along, because when you're in Camelot surrounded by knights, the best choice for urgent help in a fight is some drunk you have to spend ages searching taverns to find.
Meanwhile, Arthur is having a trippy experience, stumbling through the desert in a haze and sinking into a marsh that closely resembles a giant bowl of chilli con carne. And those were probably the most interesting bits of the episode, closely followed by the sight of Emilia Fox in old-lady make-up.
A dwarf appears as well, closely resembling Warwick Davies, but doesn't seem surreal at all. It's just a dwarf, being vague.
Reviewer Versus Episode
The average Merlin episode tends to provide light comedy or exciting drama. The really good ones manage both, and this week doesn't contain much of either. There's a strong scene at the end when Merlin reaches his destination, but even that boils down to "the series finale is going to be well scary".
Some progression occurs in the Evil Morgana subplot, as one character finally realises it's a bit odd that the formerly fraught young ward has taken to sneering all the time and burning stuff in her room. And I was excited to see Gwaine again, but this appearance serves only to remind us he exists.
In short, ho-hum. This episode of Merlin just sat there for me. Do watch it yourself on iPlayer and let me know in the comments if I'm being needlessly grumpy. Next week, a main character is courted by a non-human beastie, for the twentieth time. But to give them their credit, they did it recently in "The Changeling", and it was much better than expected.
More Merlin on Dork Adore | Merlin: The Castle Of Fyrien – Dork Review