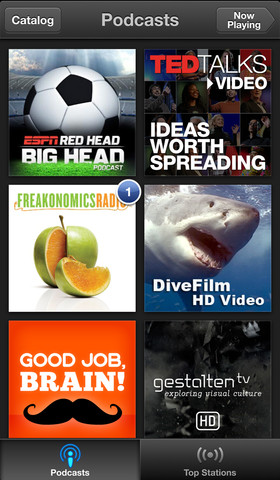 We asked podcaster extraordinaire, Sam Sparrow, for her tips on listening to podcasts on the go.
As a podcaster from The High Tea Cast, listening to podcasts (not my own obviously…that would be weird), is a large part of how I spend my day. Whether on the commute, whilst working, at the gym or the very rare occasions I clean my house, podcasts keep me occupied and amused at every step.
If you've not delved in yet, podcasts are a great way of staying in touch with your favourite topics, listening to great discussion and debate, having full on belly laughs and having something in your ears which is a little different to mainstream, mass produced commercial radio.
Made by enthusiasts, geeks and an increasing number of women they provide great entertainment.
Your phone or tablet is the perfect for listening to podcasts whilst on the move, but you'll need a great app to play and keep track of your favourite shows. Here are some of the best available for iPhone and Android.
The best podcast apps for iPhone and Android
Podcasts

Free, iPhone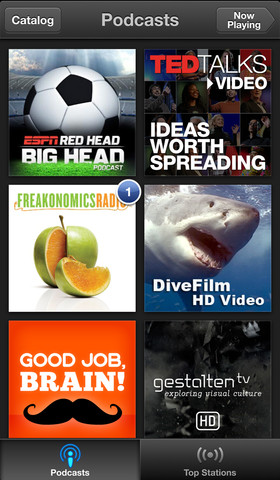 iTunes has for a long time been the go-to place for podcasters to upload, promote and manage their podcasts online and therefore iTunes has one of the biggest directories of podcasts. Anything you are looking for is likely to be on iTunes. However recently Apple changed how they managed podcasts through iTunes for iOS devices, and created their own Podcasts app. Through the app you can discover, subscribe to, and play your favorite podcasts on any of your iOS devices, but sadly the awesome ends there. Whilst the new app meant no more need for desktop syncs, there are a few usability problems with the app.
The app has a one-and-a-half-star rating in iTunes right now, but it isn't all bad – it is free, and you can delete old podcasts from your library without having to connect to a computer.
OneCast
Free, Android
This app is probably one of the most straightforward and simple to use podcast managers available on Android, and best of all, it is totally free. OneCast finds podcasts quickly and easily, including rare and hard to find episodes.
If you are looking for something basic, and you are not yet a podcast obsessive this is a great way to dip your toe in to the world of podcasting and check out some shows for yourself.
Stitcher Radio
Stitcher is very different, but it is growing in popularity amongst listeners and podcast producers alike. Instead of searching for and downloading your favourite podcast, you actually stream it from the app (so take care to make sure you are using wifi or have a robust data plan!). Even though you stream from the app, you can still mark out shows as favourites (making them easier to find for next time) and you can even weave (or stitch – get it?) your favourites into your very own non stop channel.
In many ways this app is groundbreaking, treating pre-recorded podcasts just like on demand radio – and because of this you get a much more lively listening experience!
Downcast
£1.49, iPhone
For those of you that really can't get on with the free Podcasts app for iPhone, Downcast is a brilliant alternative. It does everything the Podcasts app does but better, and in a more user-friendly way. Voted as "the Best Podcast Downloader and Player for iPhone" by Lifehacker, it is my favourite podcast app for iOS.
If you've decided that podcasts are for you, Downcast is a great next step in podcast listening and interaction.
DoggCatcher
DoggCatcher is certainly not the cheapest available on Android, but it is probably the best. It looks spectacular (and makes me wish I had an Android phone for real), and you can both search for your favourite podcast or add the URL feed for anything that isn't included. That is brilliant! The price means the app is constantly being updated which means you have access to a cutting edge podcasting app. Awesome.
Soundcloud
Free, iPhone and Android
Something a little different to end with – because Soundcloud isn't your average podcasting app. Used by musicians in the main, Soundcloud is increasingly being picked up by podcast producers as an easy way to get shorter podcasts out there. The platform is great from embedding into blogs, so many bloggers are starting to use it to add a bit of sound to their posts.
Search for users or for podcasts (the Soundcloud developers are starting to make things more aligned for podcasts) and find some unusual spoken word podcasts that are not available on more mainstream podcasting platforms.
Sam Sparrow is a geek and the editor of The High Tea Cast, a daily digital magazine and podcast featuring girl about town adventure, sex and relationships, music, fashion, food and career advice.