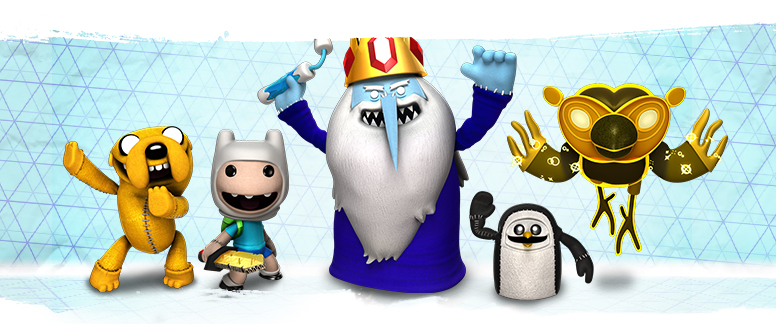 This week will see Sackboy transported to the Land of Ooo in the brand new Adventure Time Level Kit. Along the way you will meet Adventure Time characters and gather themed goodies to go in your Popit.
Finn, Jake, Ice King, Gunter and The Cosmic Owl are all featured in the Adventure Time Costume Pack which can be picked up for £4.99 or purchased individually for £1.69 each, whilst the Adventure Time Level Kit can be purchased for £3.99.
The new kit will feature a playable Gallery Level, containing:
16 materials
4 objects
25 decorations
81 stickers
2 original music tracks ('A Blip and a Bubble', 'Manlorette Party')
1 interactive music track ('Zombie Loop')
3 cinematic stingers ('Tragedy of Jake', 'Level 1' and 'Distortion Dirge')
Land of Ooo level background
A bonus Fionna costume
You will also be able to pick up 4 free Adventure Tine avatars for your PSN profile by following the steps listed on the PlayStation Europe blog.