For the last couple of weeks I have been trying out Samsung's Galaxy camera. Here's my review.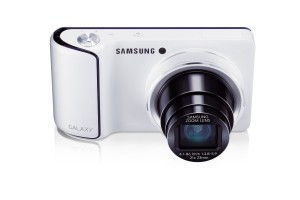 I love the quality of pictures taken with a DSLR, but find the cameras bulky and inconvenient to carry around. Photos taken with my phone however can be low quality and don't quite capture a moment the way I would like it to.
So point and shoots – like this Samsung Galaxy Camera – are usually my camera of choice for day-to-day. The Samsung Galaxy Camera feels great to hold and use. It has great build quality: while it is made of plastic, it feels solid, much more solid than the Galaxy S III mobile phone that it is based on. The hand placement on the camera feels just right, even with the camera being pretty big and heavy.
I was excited to use the Galaxy Camera as I love the idea of uploading my photos directly from my camera to my social networks and to share them by email with my family and friends. I have been using the 3G model which means that I have been able to share photos via Facebook and Instagram while I am out. This is something that I could really get used to. It felt very natural – just as I would share images from my phone.
Google Plus users when signed in to their accounts will enjoy the automatic upload function to back up their photos.
Using the Camera's operating system is exactly like using a Samsung Android phone. Actually it is exactly the same as using the Samsung Galaxy III. It is fun and the camera has all of the same functions as a phone apart from the call function. Many of these functions really are not needed but it is nice to have the option.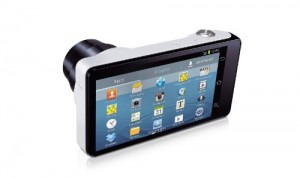 The camera application has some great functions, including a manual mode for those who are a photography whizzes. It includes options to help make  taking group photos easier, a timer, and a macro setting. There's also a touch focus and smile detection.
The camera has a  spring-loaded, pop-up flash ,which reminded me of one of the pop out pencil cases I had at school. There is also a space on the bottom to fix the camera to a tripod if you want to.
The camera is 16 megapixels which is similar to other cameras in the market. The quality of the pictures are great! Having a camera that knows where it was when it takes photos is good as all images are automatically geotagged, serving as a handy reminder of  where you were at the time.
The camera also records 1080p video which you can upload just as easily as any photographs you take.
The battery life of the camera is surprisingly good. It lasts all day with moderate use, taking and uploading pictures. You should have no problems taking it out for a day trip or evening with a full charge beforehand.
The Galaxy Camera has 4GB storage with an option for expandable memory via a Micro SD card slot.
The camera does not come with a case but there are many available. Though the camera is pretty sturdy I did not like dropping it into my bag with keys and other things in there that could scratch the touchscreen or lens.
If like me you love taking and sharing photos instantly  the Samsung Galaxy Camera is the perfect camera. The picture quality is great – though not DSLR quality it is better than regular point and shoot or phone cameras thanks to its extra features.
You can buy the Samsung Galaxy Camera from the following places: Argos, Amazon, Currys the RRP is £399.99