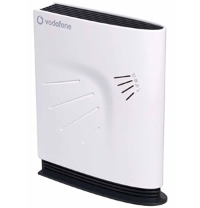 This week, guest blogger Wez Knowles tries out Vodafone's latest gadget.
I live in a village smack-bang in between two major cities (Sheffield & Nottingham) which also happens to be the place mobile signals go to die. Every time I want to make a call or send a text message I have to stand near a window and pull positions even a Yoga pro would wince at.
For the past few months, every time I've planned on making a call, I put my phone on my desk next to the window and use a Bluetooth headset (shudder) to place the call. Yeah, yeah, I know.
I recently switched from O2 to Vodafone for a better signal. But there are still dead spots in my house and 3G is nowhere to be seen.
But browsing the Vodafone forums put me onto a new device from Vodafone called the Sure Signal. Formerly known as the Vodafone Access Gateway, the Sure Signal is a small white box that connects to your internet router and sends your call over the network instead of through the air. The upside of this is no matter where in your house you are, your phone will receive a full 3G signal. No dropped calls, no missed messages. Of course, you'll need a 3G compatible handset (most modern phones are) and at least 1MB internet.
It's £50 if you're on a £25 per month contract or above, or £120 if you pay less than £25 per month. Not cheap, but much less expensive than paying for a chiropractor if you put your back out leaning out of a window while hunting a signal.
Gains points for:
Does exactly what it says it does
Loses points for:
🙁 Maybe too expensive depending on your contract
🙁 Vodafone only (I'm sure they could open it up if they wanted to)
🙁 Do we really want another box hanging out of our phone sockets?
Conclusion
I've been using the Sure Signal for the past couple of weeks and I love it. It's a great idea and I'm sure it won't be long before other networks are jumping on the bandwagon (Orange already do something like this for BlackBerry). In time I expect the price to drop, but for now, it all depends on how much a good phone signal is worth to you.