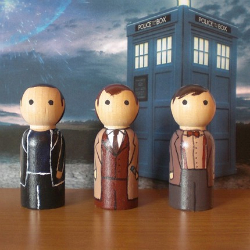 This week we've got a guest post from Michelle Duxbury. Michelle is a freelance designer and writer, who can be found championing all things indie art, craft and design over at Craftsville. She is obsessed with americana, the 1950's, cooking and embroidery.
Craft and geekery collide perfectly with these rather wonderful Dr Who Peg People from Aberdeen based Etsy shop RandomlyGenerated.
All the Doctors are there, from William Hartnell right through to Matt Smith, with Jon Pertwee Peg Doll in particular deserving an honourable mention.
So just Who is your favourite Dr Who?
Pledge your allegiance for a mere $15/£10 per Doctor and if you plain can't decide then never fear as the full Doctor Who Regenerations set can be yours for just $100/£66.64!
PS. Fans of Firefly, Back to the Future, Wayne's World and Hitchhiker's Guide to the Galaxy may also want to pay a little visit to the site too!