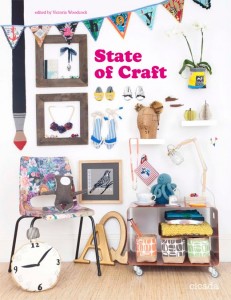 I'm a huge fan of the home-made gift at Christmas. For Christmasses past I've received hand-knitted mittens, homemade plum chutney and wallets with Manga characters stitched on.
Meanwhile, I've inflicted on loved ones gifts such as garishly striped scarves, a tie – covered in sequins and the word "DAD" in felt appliqué – and C90s with painstakingly detailed inlays.
As the last order-in-time-for-Christmas dates approach in shopping sites, I'd much rather spend a day cosy indoors hand-making presents for the geeks in my life than face the horror of Christmas shopping on a real-life high street.
New book The State Of Craft (edited by Victoria Woodcock, Cicada Books) offers plenty of inspiration for presents.
The book is a mix of crafting tutorials (knitting, French knitting, sewing, cross-stitch and crochet), interviews with professional British crafters, and craft projects.
The tutorials are probably a bit too brief for someone with no previous experience, but they're a good reminder if you know the basics. Of the actual projects, there are some seriously geeky treats amongst the sixty-plus illustrated instructions and patterns.
Water Pistol lights
Maris Schiess contributes a tutorial on making festive decorations using fairy lights and cheap water pistols. Quick, colourful, and Christmassy.
Dazzling 3-D Tee
Next up, something to wear on Christmas day. Mr Wingate has provided a tutorial on making a brilliantly eye boggling, screen-printed t-shirt. It's a little unclear from the tutorial whether it's actually 3-D, but certainly the layering of yellow, pink and blue prints make for a striking geometric print.
It also requires more specialist materials than some of the other projects – a proper silkscreen is required – but it seems like a good intro to printing your own graphic t-shirts. Which seems like an eminently useful skill to me.
Mini Protest Banner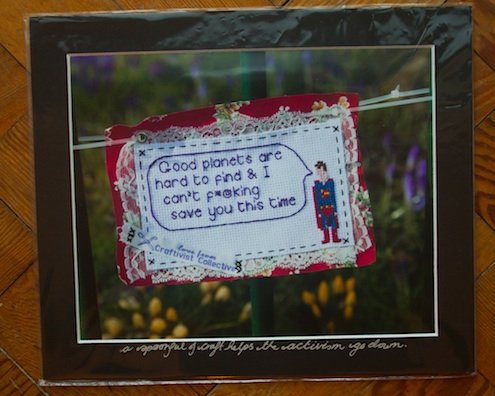 Cross-stitch, cross-stitch! Something about the combination of embroidery and pixellation makes this seem like the geekiest of the crafts.
Craftivist Collective are producers of handmade mini banners for non-violent activisim, and for this book have provided a brilliant pattern for a Superman cross-stitch, with the words "Good planets are hard to find & I can't f*@king save you this time".
Again, this looks like a quick project to whip up in the evenings leading up to Christmas – if you can't face any more drunken office parties.
Always useful to know how to embroider an "@" symbol, too.
Invaders Tote Bag
My absolute favourite piece from the book has to be Urban Cross Stitch's Invaders Tote Bag featuring – you guessed it – an embroidered Space Invaders screen shot, complete with high score, credits, and laser beam.
The project also features water-soluble cross-stitch canvas, which I'd never heard of before but am now dying to get my hands on.
The finished bag looks brilliant in the photos, but it also inspired me to think of what else could be improved by the addition of hand-stitched aliens. There's a whole world of fabrics looking mightily in need of some boxy alien spacecraft to me now…
State Of Craft is a fun, easy-on-the-eye craft book with plenty of nerdish treats between its covers.
But, to be honest, if the handmade present idea seems a bit too much like hard work this Christmas, there's still time to go to Amazon – or a lovely local bookshop – and just give the book itself to any craft fans in your life.
State Of Craft is out now (£14.95, Cicada Books)