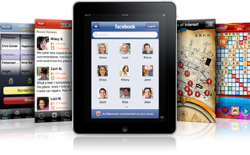 You want to know, don't you? You want to know which way to jump. Should you join the 'OMG the iPad is RUBBISH! And it sounds like a SANITARY TOWEL!' group, or go for the 'OMG Apple have done it AGAIN! They have created something so excellent I wasn't even aware I needed one UNTIL NOW!' folks? Truth is, I'm not sure.
I've had a good think about which camp I sit in. In fact, I was most pre-occupied by it at about 5am this morning, but I just don't seem to be able to come to a conclusion (I would understand at this point if you'd be wondering why you or I would bother with the rest of this article, but stay with me).
I'm not sure I get it.
So it's an internet tablet, Steve says can be sitting in the kitchen waiting for you to buy your movie tickets. But it's also a work tool that warrants its own copy of iWork? And it's 'the best internet browsing experience you've ever had'. But it doesn't play Flash video. And typing with the on-screen keyboard is so freakin' easy. But there's a physical keyboard accessory you can buy. I'm not sure even Steve really understands this product.
In a presentation even more packed with superlatives than your average Apple love-in, he gave the impression that he was struggling to talk up something that was actually only quite good. In fact, after three minutes of watching him browse various web pages ('and I can just put my finger on any of these pictures of animals, and look at any animal I like'… dude, seriously?) I was beginning to wonder if he had some kind of time slot he was struggling to fill.
There's no help as to who this product is aimed at when it comes to pricing – taking the US conversions (UK pricing has yet to be announced) you could pay £310 for a 16GB WiFi version, or up to £514 for a 64GB WiFi and 3G enabled version. So prices start at a costly treat price, and go up to a considered investment price. They're two quite different things.
It'll be interesting to see what happens now – Apple don't really do failure (not recently, anyway), but then up until now the world hasn't really done tablet PCs.
It's Steve vs the World. And I have no idea who my money is on.