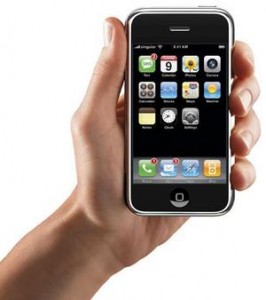 I'm a little late to the iPhone party. Like several years late. Consequently, I've gone a bit mental in the apps store, downloading every decent app I've heard about in the last few months/years, and a few more embarrassing ones (Christmas countdown anyone?). I of course blame this entirely on Frackulous, who have been torturing me with videos of Angry Birds and Remember the Milk apps for months.
As a girl who prefers to conduct her shopping from home, where shopping in my trackies with a glass of wine is considered acceptable, it was somewhat inevitable that I'd make a beeline for the fashion apps section of the iTunes store. An area where I'm spoilt for choice.
So, after spending some time shopping in the name of research *ahem*, here are five of the best fashion apps for your iPhone.
Debenhams: Admittedly, the fact that they're offering 15% off at the moment when you download the app helps, but the Debenhams app really is brilliant. From the app itself, you can browse clothes in your size, save them into wishlists, and then buy through the actual app. And it's FREE!
ShopStyle: ShopStyle is a shopping site that allows you to search for products from hundreds of different stores, then click through to the shop to buy them. The free app does pretty much the same thing, allowing you to search by product, brand or shop and save them to view later.
eBay Fashion: eBay actually has several free apps for the iPhone, but the fashion app is great if you're only interested in shoe, bags and dresses. You can search for items, bid on them, or save them to a 'closet', where they can be arranged on a plain background or over a photo of you.
Sartorialist: For real-life fashion, the free Satorialist app allows you to see the latest images uploaded, and share them on your Facebook page. Simple, but entertaining.
StyleBook: The only app in the list with a pricetag, at £2.39. This app makes your Cher-from-Clueless dreams come true. It lets you take photos of your clothes, so you can create outfits, resize pieces, remove backgrounds and check when you last wore it. OCD sufferers rejoice.
As a side note for all you London-based non-iPhone users, you might want to check out Salesgossip. They'll text you every time there's a new sale on in the high street.
Did we miss one? Tell us your favourite fashion iPhone app!