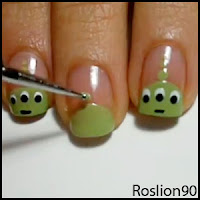 Following on from the marvellous Totoro nail art how-to, we've found this rather lovely Toy Story Alien tutorial
Roslion90 has kept it simple with just four colours and a repeated design that's the same on every nail (so you can probably just about pass for normal in polite society.
The Toy Story Alien Nail tutorial video is very simple to follow.
You'll need: black and white nail varnishes and a green varnish (Roslion90 uses Deborah Milano) with a finishing top coat.
You'll also need a Nail Dotter, which you can grab from eBay for a few quid.
More Nails on Dork Adore