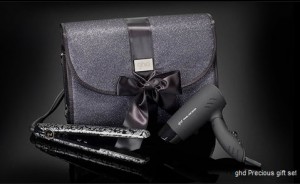 The day I spent £90 on a haircare product was a big day for me. I was brought up in a household that still embraced the glory days of 1950s Austerity Britain and the very idea that you could spend that much on something that did your hair secretly appalled me.
Still, once you've broken the seal on these things, so to speak, it's impossibly to go back. And since I still use my beloved GHDs all the time (though less zealously than the Zoe Lucker heyday of hair straightening), I think it's safe to say that the "cost per use" has now reduced the expense to a barest minimum. Or that's what I tell myself anyway.
But if the thought of spending all that money on straighteners makes you want to tear your hair out (possibly self-defeating), you may be tempted by the many sites out there promising cheap ghds. Thing is, a lot of those cheap ghds are fakes.
And if you don't want to invite dangerous fire hazard into your haircare regime, it's worth finding out how to spot a fake before you get burned.
How to buy real GHDs
Kiss and Makeup has a handy guide to how to spot a fake. You can read the full article here, but the basic advice is:
Limited Editions. Be wary of anyone selling the "limited edition" baby pink versions. They haven't been made since 2005, so they're unlikely to be real ghds. You can see there are loads of these on eBay. Selling for around £60. The same goes for purple, gold, white, dark and Radiance gift sets. They are all sold out.
Cost. Spend £90+ on them. They really don't come any cheaper. These are potentially very dangerous objects to have in your house. They use 240volts to heat up to over 200 degrees and if they're not properly made and tested, they pose a serious fire risk.
Pay by credit card. If you do get sucked in by a fraud, it's going to be hard to get your money back. If you've paid by credit card, you are covered by the Consumer Credit Act, which means your card company will give you your money back. Read our article on buying online for more advice.
Check the contact info. If you visit a site that has no UK landline number (answered by a real human), UK address that can be checked on Royal Mail website, and both a VAT and Company Registration number, it's not a genuine ghd reseller.
Avoid dodgy packaging and websites. If the website is poorly written, with strange english and ropey-looking product packaging, it's not a genuine ghd reseller.
Ask ghd. ghd has a useful website checker for you to verify that the reseller site you want to use is genuine. And if you've already bought ghds and think you might have fakes, enter the hologram code here and you can find out.
Use Compareghd. If you want the cheapest prices, but don't want to end up with fakes, Compareghd is an approved ghd comparison site, and only includes approved ghd resellers.
There's even more advice on how to spot fakes on the CompareGHD site.
Or just buy direct from ghd Hair themselves!
Beware of bargain GHDs [Kiss and Makeup]
Image: ghd Precious, Limited Edition 2009 Christmas set.