A couple of months ago, I wrote about the various bargain designer clothes sites available online. Since then, another type of shopping has taken off in a big way, giving consumers the chance to take advantage of group buying for fun activities.
Group buying (also known as mobdeals or groupons) is where a website offers a deal that only becomes available once a certain number of people sign up for it. So, the deal is 'on' when they reach their target.
Most of the sites currently offering these deals work on a regional basis, so it's not just the capitals that can take advantage. The majority of deals come with a 6-12 month voucher, so you don't have to use it straight away either.
So, fancy getting involved in this bulk buying phenomenon? Here are three of the best sites offering the service.
Wahanda was the first site that made me aware of bulk buying, with their daily MobDeals. Currently available in London, Manchester and Birmingham, the spa site offers deals like 3-for-1 power plate classes, a full spa day for under £30 and spray tan deals for under a tenner.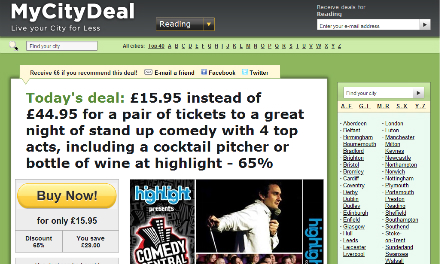 My City Deal (soon to be Groupon)
My City Deal offers deals on everything from meals out and comedy nights to pampering treatments and paintballing days. They've got a good coverage of cities, so you should be able to find something close to you.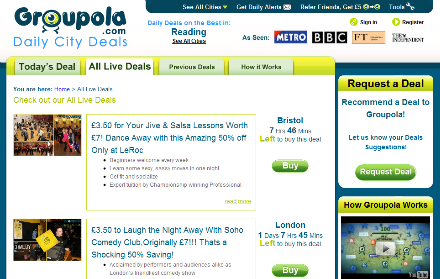 Groupola works in much the same way as MyCityDeal, although they're a bit more limited on locations. Recent deals have included hot air balloon rides in Liverpool, Scuba Diving in Birmingham and Zumba classes in Edinburgh.
There are plenty of other sites offering similar deals, including Groupon (which has recently taken over MyCityDeal), Letsgroupit, Crowdity and LivingSocial, but the three above update most often.
Know of any other good group buying sites?