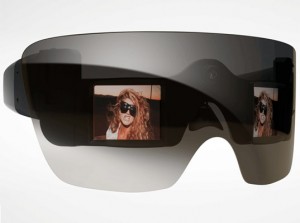 Love her or hate her, Lady Gaga certainly has a unique sense of style and so it came as no surprise when she was named as Polaroid's Creative Director back in January 2010 — well, no more surprising than a meat frock, anyway.
Recently, she unveiled some of her work with the brand so far in the guise of the new Grey Label line.
There are three products in the range, including an instant bluetooth printer and a jazzed-up Polaroid camera but the real stand out as 'trademark Gaga' for me were the Polarez GL20 glasses.
Sunglasses with a difference
As well as the standard sunglasses role of protecting your eyes from the sun, they also incorporate a camera to allow photos of whatever is in your line of vision. The resulting picture is then displayed on a 1.5 inch screen in the lenses for all to see and in a brilliant piece of design, the earpiece detaches to reveal a USB for uploading the photos to your computer (you can also send them via bluetooth).
The glasses were apparently inspired by an invention of Gaga's during her Fameball tour, where she created glasses out of iPod screens which could play movies.
Although I query the point of displaying pictures in your glasses — and the style of the frame isn't quite to my taste — I love the idea.
Photography is so instant these days with people snapping away on their phones and this just feels like an extension of that. I also find the idea of taking a photograph of exactly what you were seeing at a precise moment quite a nice idea in terms of capturing memories.
I very much doubt that it's going to replace the standard digicam (or even mobile phone camera) anytime soon and I'm sure when the price is announced it will be on the highly expensive side but I'm still taken by the highly original concept.
Lady Gaga's Polaroid range [Polaroid press release]