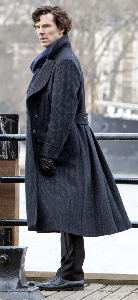 While Sherlock may be better know for his brains rather than his beauty, he also has the ability to be a rather dapper chap.
His style revolves around smart suits, a dark selection of scarves to keep him warm whilst dashing around London and, of course, the ever present Milford coat that had girlgeeks across the nation swooning.
His patterned coat is from Belstaff and will set you back a pricey £1,350. Good thing Sherlock has plenty of paid gigs solving crimes.
Whilst Mark Gatiss and Steven Moffat can't take all the credit for his style (after all, the recent Sherlock Holmes film also showcased a stylish Sherlock and previous incarnations have usually worn something suave involving tweed), there are similarities in his style and the style of the current Doctor Who.