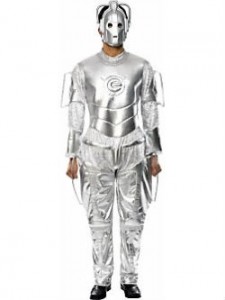 Halloween. A time when children dress up as cute little pumpkins and witches, teenage girls put together a 'costume' that merges scary with slutty, and grown ups desperately attempt to create something that looks cool and yet effortless.
No doubt this year's ghoulish festivities will be primarily built around the Twilight and True Blood franchises, for kids and adults. But here at Dork Adore, we'd like to suggest a few more alternative costumes.
Let's kick off with this Cyberman costume on the right from Littlewoods (£56.40). The Doctor Who nemesis's outfit comes complete with silver jumpsuit and mask. There's a more expensive Cyberman costume from Jokes Around, which looks slightly less like a gimpsuit…
Geek chic
Seeing as you're reading this on a site dedicated to everything dorky, we're probably right to assume you like to embrace your nerdy side. So why not go the whole hog and kit yourself out in a Nerd costume?
The Nerd costume (Fancydress.com, £27.99) is a short-sleeved one-piece, with an extra- high waist, matching bow tie and pocket protector.
Wear it with big black rimmed glasses and some stick on zits for the full effect.

Goblin costume…for your dog
Isn't half the fun of Halloween in dressing your dog up in something ridiculous? No?
Perhaps this Goblin costume will change your mind. The black harness is attached to the dog, with an angry-looking goblin perched on top, ready for battle. There's a headless horseman and a cowboy one too if you're warming to the pet costume idea.
£18.49 might seem like a lot for a pet costume, but I think we can all agree the dog looks damn happy about wearing it.
Mario
It's-a-me, Mario!
Super Mario Bros is 25 this year, so why not celebrate the Italian plumbing duo's birthday by pulling on Mario's famous blue overalls?
The Adult Deluxe Mario Costume, which comes with a jumpsuit, inflatable belly, gloves, hat and authentic moustache, is from Allfancydress (£43.99).
If you've got a willing child who's happy to be your sidekick, you could get this Toad Child Costume from Costume Express ($24.99). There's also a Princess Peach costume for $49.99 and a Yoshi costume.
Spaghetti Cat costume
A special mention goes to this handmade meme costume of Spaghetti cat, which scares the living daylights out of me.
Imagine that arriving on your doorstep *shudder*.
What will you be dressing up as this Halloween?