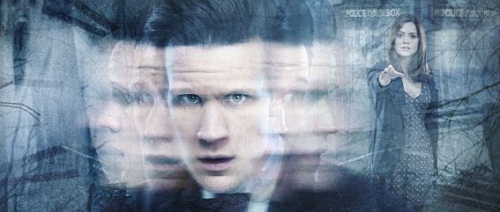 Fourth week of Doctor Who series 7B (or whatever we're calling it), and Luther writer Neil Cross returns for his second bite of the apple. His first effort, in which our heroes went to debate club with a huge CGI sun, had some failings – can he balance his seesaw with this ghostly tale?
Well, there's a haunted house and a couple of recognisable guest stars, all the parts are in place for a fun week. Catch up on iPlayer first to avoid the spoilers.
Who You Gonna Call? Trauma Flashbacks?
When the Doc and Clara arrived at the ghost-house at the start of Hide and started talking abut Ghostbusters, you might've had flashbacks to Tennant and Piper doing the full-on acapella theme song in series two. Thankfully, this was nowhere near as mortifying – in fact, it might be the best episode so far this year.
The Doctor wandering around the strange forest landscape was creepy, rather than distractingly fake, and the set-up in the house beforehand nicely unnerving. Dougray Scott and Jessica Raine are great, memorable guest stars, rather than the usual stupid humans, and I'd almost welcome seeing them again some day. The final twist was at least unpredictable, and meshed neatly with their story.
Cross also takes advantage of Doctor Who's genre-leaping capacity to stride through extreme scenes in a short space of time – the sequence where the Doctor surveys the whole of human existence in a matter of minutes, then just wanders back to the plot was both cool and, as Clara pointed out, unsettling.
Oh Clara Who Art Thou?
We also get a few more pings on the Clara subplot, after mostly leaving it to one side last week, although all we now know is that the TARDIS definitely doesn't like her, and she's… very self-centred? Odd, but funny.
I remain on-board with that storyline, enjoying the rapport between Matt Smith and Jenna-Louise Coleman, which is both friendly and distant in a very odd way – nice to see a companion challenging him, rather than accepting him out of affection for an imaginary friend. Not to disdain Amy Pond, but it was important Clara differentiated herself.
So yeah, a manic, well acted, well-directed Doctor Who episode there. I'm sure one could pick plot problems into it – the TARDIS seemed to cope admirably well with repeated visits to the pocket universe in the end – but it swept me along well enough not to feel inclined to bother, which is all I really ask. Next week: our heroes voyage into the TARDIS – will it reveal why it hates Clara?
More Doctor Who on Dork Adore | Doctor Who: The Bells Of Saint John – Dork Adore Review