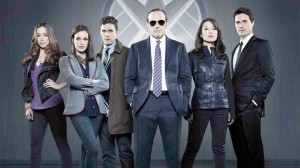 Agents of S.H.I.E.L.D landed onto UK territory last night, after debuting strongly in the US earlier in the week. To be honest, with the sort of pedigree it has going for it, I couldn't imagine it doing any less.
But was Joss Whedon's first televised foray into the offices of S.H.I.E.L.D actually any good? Spoilers abound for those of you who haven't watched it.
Plot explosion
The show picks up some time after the Battle of New York at the climax of Avengers Assemble. After a pre-credit sequence, where we meet a man called Mike Peterson (J. August Richards) who's somehow acquired a superhuman amount of strength, we get thrown into some proper S.H.I.E.L.D action.
Agent Grant Ward (Brett Dalton) is seen on a mission in Paris, trying to suss out a group of hackers called The Rising Tide. Things go a bit wrong, and Ward is called in for a briefing with Maria Hill (Cobie Smulders, reprising the role) where he soon finds out that Agent Phil Coulson (the epically amazing Clark Gregg) is, in fact, very much not dead.
Together with Ward, Coulson susses out one of The Rising Tide's hacktivists, a computer hacker named Skye (Chloe Bennet) who operates from the back of a GMC van. It soon transpires that Skye knows something the Agents don't, and with her help, they set about tracking Mike Peterson down, as it is revealed that his new-found powers may come at a serious price.
Tahiti-what now?
This opener starts off a bit mild… and that's despite the whopping great explosion happening before the credits even roll. Luckily, things pick up as soon as Coulson enters the fold, because when is Clark Gregg ever not scene-chewingly brilliant? The rest of the cast gets a good amount of screen time, which is always a welcome thing for a series opener. We meet the gruff and asocial Ward, who is… gruff and asocial (and, according to Skye, "firmly built"). Brit newcomers Iain De Caestecker and Elizabeth Henstridge amp up the adorkable as agents Fitz and Simmons, and Ming-Na Wen brings the kick-ass as pilot and weapons expert Melinda May.
Chloe Bennet as Skye does tend to grate. A lot. But it's forgiven considering this is the first episode, and I'm sure she'll get a lot better as the season progresses.
It's not all brilliant thought. For one thing, if you've not been keeping up with the Marvel universe, there are references thrown left, right and centre that will make not a jot of sense to you. I, personally, was thrown by the references to Tahiti – which left me wondering if I'd developed a Marvel continuity-shaped hole in my brain.
So… what is an 0-8-4?
But, overall, this was a good start to a promising series. It doesn't pack the punch of Avengers Assemble, but considering every episode is about 45 minutes long, it does a pretty good job of dishing out the action. The Agents of S.H.I.E.L.D have indeed landed. And pretty well at that.
Next week, the team tackles something teased at in the final minutes of this episode. So, just what is an 0-8-4? You'll find out a week from now. Until then, you can salivate over the last shot of this episode, in which Coulson's beloved car (named Lola) turns out to be a bit less of a land vehicle than you'd think.
Agents of S.H.I.E.L.D is on every Friday at 8PM on Channel 4.
More Agents of S.H.I.E.L.D on Dork Adore – Catch up with Agents of S.H.I.E.L.D on 4OD