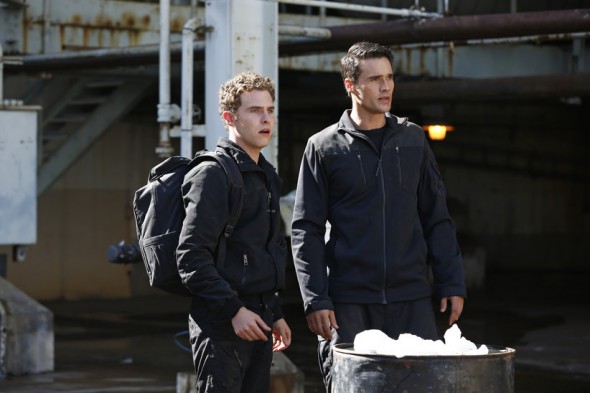 After taking a little break from being jet set secret agents, the Agents of SHIELD start out this week in… Siberia. It's safe to assume we're back in the swing of things. This week, Action Jackson Ward gets his hero parade royally rained on by Agent Fitz. Of all people.
Spoilers after the jump, of course. Catch up with the series so far on 4oD.
Hub and Hand
As mentioned, the episode starts out with Coulson, May and Ward in full Action Jackson mode, retrieving another agent (named Shaw) from a base in Siberia. After Shaw is safely brought to The Bus, Simmons extracts an information chip from Shaw's nose (…).
The chip is brought back to The Hub, a secret SHIELD base in an equally secret location. Its director, Agent Victoria Hand (guest star Saffron Burrows, sporting a most excellent hair-do), has an assignment for the team: send two of their ranks to South Ossetia to disable a weapon device called The Overkill.
This leaves Action Jackson Ward reluctantly partnered up with… well, Fitz, of all people.
"Blah blah blah, the system…"
Meanwhile, Skye and Simmons try to gain more information about the mission since it's been classified as Level 8 information. Skye is also keen to use her time at The Hub to do research on her parents, something which Coulson isn't exactly bending over backwards for to do himself.
As Simmons breaks into the Level 8 files, tranquillizing Agent Jasper Sitwell in the process, Skye discovers a rather disturbing fact: there is no extraction team coming to pick up Ward and Fitz…
Such a waste of a sandwich…
Over in South Ossetia, Action Jackson Ward tries to not be irritated by Fitz's presence, as the two men delve further into the case of the Overkill machine. This requires Ward speaking Russian, a lot of kicking and punching, some bonding (in that weird way you can only imagine Fitz and Ward doing) and the shameful sacrifice of a rather lovely-sounding sandwich.
After Skye and Coulson get into an argument about her actions, Coulson in turn argues with Agent Hand – which ends with Coulson completely ignoring her orders and joining May, Skye and Simmons as a makeshift extraction team.
It's all kicking off… FINALLY
Fitz gets more character development! Simmons gets to tranquillize Agent Sitwell! We get a massive tease towards Skye's past and her parents! Coulson wants to find what's going on with his recovery! May glowers! Ward…
Well, we're getting there. Probably. Possibly. But still, this is another decent offering, with plenty of action. Just… you know… give Ward a bit more depth, will you? The whole Action Jackson thing is getting a bit one-note.
Next week, nothing will make sense if you've not seen Thor: The Dark World yet, because this is a tie-in episode with that very film! Directed by Commander Riker from Star Trek: The Next Generation! Such geeky fun, this is!
More Agents of SHIELD on Dork Adore | Agents of SHIELD – FZZT – Dork Review