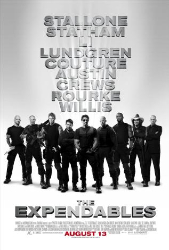 Movies don't come much more star-packed than the upcoming action movie The Expendables. With a cast including Sylvester Stallone (who also directs) Jason Statham, Jet Li, Mickey Rourke, Arnold Schwarzenegger and Bruce Willis, it's likely to be a huge box office hit.
Particularly for those of us who remember the stars before various questionable cosmetic surgery procedures…
The film tells the story of a group of mercenaries hired to infiltrate a South American country and overthrow its ruthless dictator. However, the men soon realise things are not quite as they seem.
Last night saw the UK premiere of the movie, and many of the stars were interviewed on the red carpet.
Want to know what they had to say on the movie and filming process? Check out the video below.