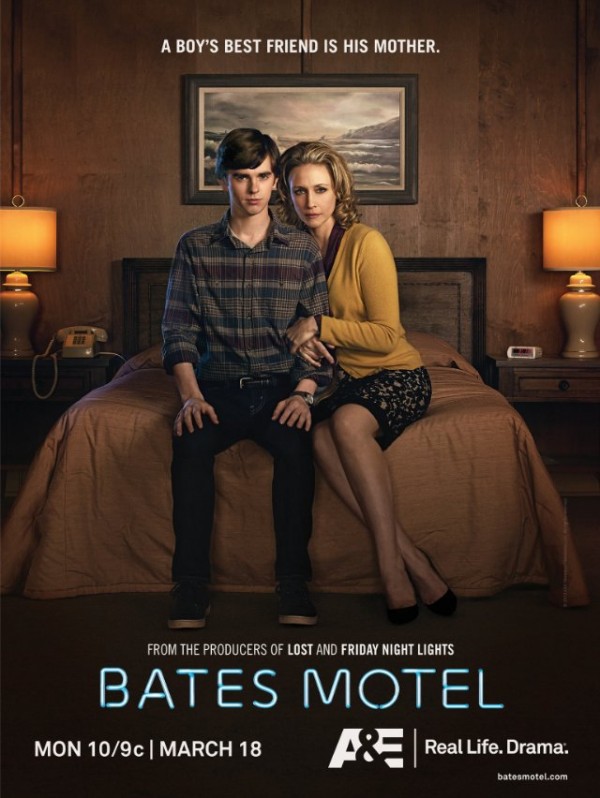 Bates Motel is next in our Autumn TV Preview. And you're in luck: you can catch the first episode tonight. And just in case the title hasn't tipped you off to what this show is about, let's take a look at the makings of a charming young chap named Norman…
Norman
Bates Motel is (of course) the origin story of Alfred Hitchcock's most famous on-screen killer: Norman Bates. This series travels back to his teenage years, where he and his ill-fated mother Norma move to the town of White Pine Bay, Oregon, to start a new life and take over the titular motel.
Norma
Norma's attempts at building a normal life for her and Norman are quickly thrown out the window when the former owner of the motel breaks in and rapes her. She, in turn, murders him, and has Norman help dispose of the corpse. As if that wasn't enough, Norman finds a mysterious sketchbook, full of images depicting women being tortured. So much for that new start and normal life…
Normal?
Developed by Carlton Cuse (Lost, Friday Night Lights,…) and set in modern-day America, Bates Motel serves as a contemporary prequel to the events of Hitchcock's 1960's classic, Psycho. Actress Vera Farmiga takes on the role of Norma. And as for who's playing Norman? Well, remember that really adorable kid who played Charlie in Charlie and the Chocolate Factory? Yeah, it's him. Freddie Highmore, now 21, takes on the hardest role of his career and slips into the skin of Norman Bates.
And since filming on series two has already begun, you can bet he does a brilliant job.
Bates Motel starts tonight at 9PM on Universal.