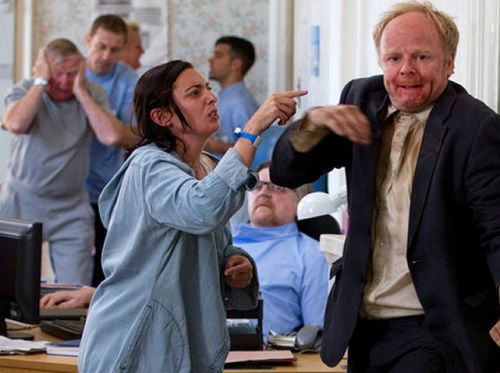 Over the past year there have been some excellent new comedy series on the BBC. First there was the gentle Rev, then Alan Davies' boisterous Whites, and more recently, Episodes. I'm just on iPlayer, flicking through them now.
What's this programme at the top of the comedy listings, positioned just above Cool Runnings? Yes, Being Human, it's called. That's bound to be funny – look, they're even pulling wacky, contorted faces in the picture! (see above).
Must be some improvisational thing. Maybe that new one with Hugh Dennis.
My friend Olly clicked on to Being Human — The Longest Day through iPlayer Comedy the other day, in search of a bit of a post work pick-me up. "It was distressing." he told me.
Frankly, I sympathise. It would be like stumbling across Snog Marry Avoid? while looking for a wildlife documentary. This was by far the most harrowing instalment of the houseshare horror since it started back in 2008.
From Here To Insanity
The story to The Longest Day focused on a revived, deranged Herrick – a very bad man, and furthermore a vampire – who had appeared without warning in the psychiatric ward of Barry hospital.
Although familiar to our protagonists, Herrick was suffering from amnesia (a plot device so old it's lost its own memory), and was visibly traumatised by the efforts of his old flame, Cara, to reinitiate him as a vampire. Whether conscious of his past or not, Herrick was still something of a meanie – 'You're nothing.' he told Cara with a cold rationality, before cutting right to the bone with, 'You look ugly when you cry'.
She subsequently forced a stake through her heart, hilariously. I think that may have been where Olly switched off.
It would be churlish to pick holes in the story of a a werewolf, vampire and ghost attempting to adopt a vicious, reincarnated, amnesiac vampire through social services. So I won't do that. But there were clear contrivances by the writers to exaggerate the tension between the characters, thereby eliciting big, stagey performances from the leads, and sweary showdowns between Mitchell and just about every other cast member.
Even so, the performances were as assured as ever, especially Sinead Keenan as Nina.
The mood and look of The Longest Day were also impressively bleak, and the recasting of chief baddie from Herrick to Mitchell was skilfully handled. Spooks' Nicola Walker tried her best to raise a smile as Wendy the hapless social worker, but her material was creaky and her presence in the story, like Wendy herself, soon began to grate.
Battle of Barry
It's unlikely that there will be many more laughs next week, judging by the trailer, which suggests that the producers will attempt to wring every last drop of tension out of Herrick's arrival and Mitchell's impending comeuppance.
This is a shame since, misfiled as it is, Being Human usually does comedy extremely well, finding humour in the most tragic and horrifying circumstances. Just don't expect to see repeats of it on Dave.