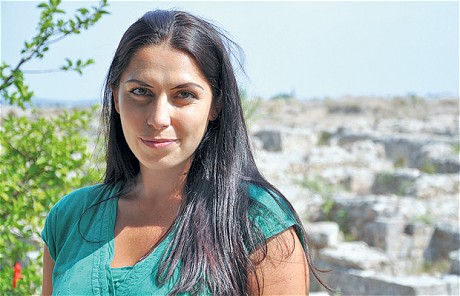 If you've not been sucked into BBC Four's The Killing (which, I think mistakenly, I haven't) it's been a bit of a slow old week, telly-wise. Still, it's important to maintain a balanced diet even when faced with slim pickings, so this week I turn to BBC Two documentary Bible's Buried Secrets and the return of Cat Deeley-fronted talent show So You Think You Can Dance.
I missed the first episode of BBC Two's Bible's Buried Secrets, but it's clear that presenter Dr Francesca Stavrakopoulou is up for causing a bit of a stir, conspiratorially starting her programme with lines such as "there's something about this ancient world that the Bible's not telling us…" "literature with a religious agenda that distorts the past…" and (dun-dun-duuuun) "an idea that rocks the foundation of monotheism to its core."
In this week's episode, she met with leading scholars of Jewish, Christian and Muslim faith, all of whom, of course, state that believing in a single God is the fundamental basis of their religion; the thing that sets them apart and something about which there can be no argument. Enter Dr Francesca Stavrakopoulou.
Her thesis is that there are references to polytheism throughout the Old Testament and Hebrew Bible, references which have been buried and ignored. She starts with the struggle to stop early Israelites worshipping  the Canaanite weather god Ba'al, and moves onto the Canaanite 'chief' God, El, a name which she says was actually used in the Bible for the singular, Judeo-Christian God, suggesting that the two can be and were conflated.  She even plucks out phrases from the Bible suggesting that there was a "council" of gods. Dr Francesca saves her big 'reveal' until about half an hour in though, gleefully asserting that God had a wife who has been written out of history.
This is very much Dr Francesca's own lecture, and there are some pretty sweeping statements made on what appears to be rather slight evidence, but if you're interested in reading the Bible as a literary text, it's fascinating. Next week, she's on the hunt for the 'real' Garden of Eden.
WWBW on SYTYCD
Rather less cerebrally challenging but still really rather enjoyable was the first episode of the new series of So You Think You Can Dance, the televisual baby of  "Nasty" (AKA "not-at-all-nasty") Nigel Lythgoe.
What sets this apart from other reality TV shows — and particularly those which revel in the audition stages (ITV, I'm looking at you) — is the emphasis on the good over the bad. They did slip into it a couple of times, notably with a guy who was actually after Cat's job, and a man who'd written a poem for Arlene, but they admirably resisted in the main.
So instead of endless footage of deluded wannabes pleading with the judges, we just get to see lots of really great dancing; tap, lyrical, contemporary, ballet — the sort, in fact, that you just don't tend to see on TV very often. The last series uncovered several genuine talents, and if the quality of the first episode is anything to go by, this time will be no different.
Next week… BBC Four looks at losers in love in Sex And The Sitcom.