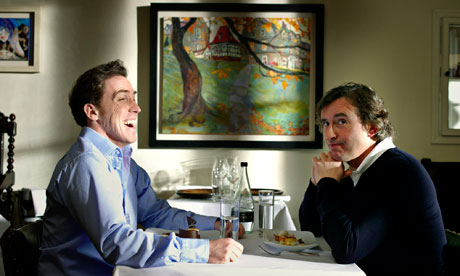 This week, as the classic sketch goes, I have mostly been watching double acts. Steve Coogan and Rob Brydon have teamed up for the second time following on from the mostly excellent A Cock and Bull Story (dragged a bit, didn't it?); Wallace and Gromit are putting their window cleaning and humane pest-control businesses to one side to front a new family show about great inventions, and Alexander Armstrong and Ben Miller return for a third series of their BAFTA-winning sketch show.
Quite a trip
Steve Coogan has been everywhere this week. As well as quickening the heartbeats of comedy fans everywhere by appearing in a brand new web-only episode of Alan Partridge for 'Fosters Funny' along with the excellent Tim Key, (next one is released 12th November), he's returned to British telly after a notable, Hollywood-filled absence to star in a self-reflexive comedy with the altogether more cuddly Rob Brydon – The Trip.
Playing heightened (though, you suspect, not massively so) versions of themselves, this Michael Winterbottom-directed sitcom follows them travel around the North reviewing restaurants for an Observer column. Playing on the public perception of their respective personalities — self-important playboy for Coogan, and anything-for-a-laugh family man for Brydon — the two bicker, try to out-do each other with their impressions, and put each other down with references to career mistakes, and past indiscretions.
With the belly-laugh count relatively low, episode one may have got this series off to a low-key start, but I have the feeling it will be a real grower. Thanks to Winterbottom's superb direction, it looks beautiful, and Coogan is clearly game for portraying himself as a bit of a berk ("there's no signal; what do I do?") Best of all, though, is that Brydon and Coogan's semi-improvised banter is often surprisingly close to the bone — it gives the comedy a real edge, and is the element that will keep me tuning in each week.
Wallace & Gromit in less than excellent shocker
I utterly love Wallace and Gromit. Gromit is the greatest silent comic actor of his generation (fact) and, like any connoisseur, my favourite Wallace and Gromit film is The Wrong Trousers – the horror film references, the genuinely scary Penguin, the sad bit when Gromit feels he has to move out, the runaway train finale; it is pure brilliance from beginning to end. And let's face it, everything that Aardman produces, from Shaun The Sheep to Creature Comforts is usually a complete joy.
So why was I distinctly underwhelmed by their new primetime show, Wallace and Gromit's World of Invention? It's Wallace and Gromit and incredible inventions, what's not to like? With Wallace's basement turned into a TV studio and Gromit, as is the way of things, doing all the work, they introduce live-action films about amazing inventions from around world, but oddly their linking sections lacked a certain spark. The script, I think, just wasn't really up to much. Of course, the *real* reason I didn't love it may actually be pretty simple: it's not a new Wallace and Gromit film. Harsh, but I'm ashamed to say, probably true.
Armstrong and Miller rock my world 24/7
It used to be that Ben Miller and Alexander Armstrong's street-talking Second World War RAF pilot characters would be the highlight of most episodes. Not any more. The standard of those sketches has probably remained constant, but, with two episodes of the third series aired, everything else is now just as good.
Indeed, the first episode of this series was, without doubt, the best 30 minutes of  TV sketches I have seen in a long, long time — not hit and miss, as sketch shows are always described, just plain hit. I'm talking ridiculously strong. You might say that with between ten and twenty writers credited for every episode it damn well should be, but just look at the likes of My Family for proof of the fact that many pens do not necessarily a classic make. But from the musical number "Farmers' Market" to the English and German in-laws who can forgive the war, but come to blows over Jordan and Peter Andre, it was laugh out loud all the way through.
Episode two did not, admittedly, quite match the opener, but it was still very funny stuff — particularly inspired was the bloke trying to explain the notion of 'crazy paving' to an utterly confused German holiday-maker. It has taken a little time but thanks to fewer returning characters, more left-field sketches, Armstrong and Miller's superb performances and an excellent supporting cast which includes Tom Basden, Katherine Jakeways and Dan "Angelos Epithemiou" Skinner, the show is now firing on all cylinders. Isn't it though? (Sorry.)
Next week: It's a BBC Two fest as I explore Ancient Worlds and Giles Coren and Sue Perkins live the Good Life.