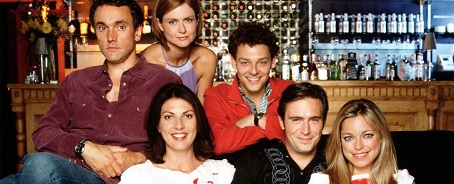 Before Steven Moffat was master of Doctor Who and Sherlock, he'd largely worked not in action-drama, but comedy. One of his last and most successful sitcom projects before joining Team Who was Coupling – on the surface, a sitcom with a simple aspiration: being the smuttier, more British Friends.
But Coupling was more ambitious than that. Early examples of the "timey-wimey" structures Moffat is now world-renowned for can be spotted throughout this deceptively complicated sex-comedy. I recently rewatched the whole show and had a great time, so I thought I'd pass the idea on to you guys as a way to pass the time while waiting for Who and Sherlock to come back.
The Friends-This Life-Coupling Paradigm
Back in the early 2000s when Coupling was born, the Friends-styled comedy-with-drama about five or six young people's' love lives was massively in vogue. From This Life to Cold Feet to Hearts & Bones (remember that one?), sexy group action was everywhere.
Coupling stood out in that crowded marketplace through a combination of old-school innuendo, crazy plot constructions and rambling theories about sex and gender, usually (but not exclusively) delivered by stand-out character Jeff (Richard Coyle).
The series is based on Moffat's real-life courtship with his wife (and Coupling producer) Sue Vertue, and main characters Steve (Jack Davenport) and Susan (Sarah Alexander) are directly based on them. Accordingly, they get to be the comparatively normal ones, while the other four characters perform crazy antics around them.
Moffat Vs Linearity
The other characters being Susan's vain best friend Sally (Kate Isitt), Susan's oversexed former fling Patrick (Ben Miles), Steve's crazy ex Jane (Gina Bellman) and the afore-mentioned Jeff. Unfortunately, Jeff leaves before the fourth and final series; he's replaced by overcompensating geek Oliver (Richard Mylan), who isn't unlikable but suffers in comparison.
So, the fourth series isn't quite as good, but there are still a few great episodes, including a surprisingly successful attempt to wring poignancy from the Crazy Jane character. The pilot also gets a tad clunky. Still, as a whole, it's a great, quirky, reliably wringing humour from a genre I really thought was a bit tired.
If you feel Moffat leans too heavily on gender stereotypes in Doctor Who, then yes, there are scenes in Coupling which might annoy you, but the ultra-silly sex-com backdrop makes them less jarring. Not to mention, his writing style really does work amazingly in farce – setting up ridiculous situations carefully and then exploding them at the end is exactly what he does best.
Coupling, then – still one of my favourite British comedy shows not to involve Armando Iannucci at all. Worth getting into.