The cover of April's issue of Empire proudly declares 2013 The Year Of Fear. And indeed it seems like the horror genre has resurfaced from its leaf-covered grave with a vengeance. Aside from remakes of The Evil Dead (review coming soon) and Carrie hitting our screens in the course of this year, what else can we expect to be terrified with on the silver screen in the next few months?
Have no fear (hurr hurr) because I have a handy list of five horror flicks that are hitting the screens to scare the pants off you. Follow me, if you dare….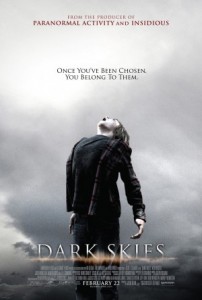 Dark Skies (Out now)
Take your bog-standard American family, consisting of a mother, a father and their two sons. Let one of those sons experience something rather eerie on an evening bike ride, culminating in all the street lights turning off at once. And let alien-related mayhem ensue from that point. It is the simple premise of Dark Skies, produced by Paranormal Activity alumni Jason Blum. Knowing the impact that the Paranormal Activity series has had on the horror genre, expect Blum to know his stuff. Out now, so if this tickles your fancy, away with you to your nearest cinema!
More about Dark Skies on IMDb.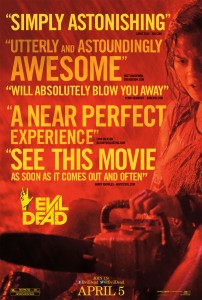 Evil Dead (April 19th)
If you go into the woods today, and so on and so on. Sam Raimi's seminal horror classic gets the remake treatment, only it isn't exactly a remake. Described as both a reboot and a loose continuation of the original trilogy, Evil Dead 2013 has loosely the same premise : five people, a cabin and a book of pure evil. Film maker Fede Alvarez's debuts as a feature film director means business (and believe me, I've seen it already and it totally does). Out next week, so hold on to your boomsticks for a little while longer…
More about Evil Dead 2013 on IMDb.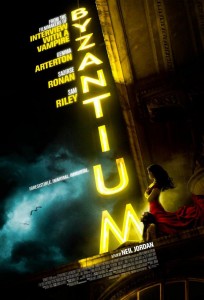 Byzantium (May 10th)
Neil Jordan returns to the vampire genre after directing Interview With a Vampire way back in 1994. This time, he puts a unique twist on the lore by telling the story of Clara (Gemma Arterton) and Eleanor (Saiorse Ronan), mother and daughter vampires who have been on the run from dark forces for centuries. They settle in a dilapidated guest house in a small British seaside resort where Clara sells her body for cash and Eleanor bonds with a young local who she takes into confidence. You'll have to wait another month for this one, but something tells me it's quite worth it.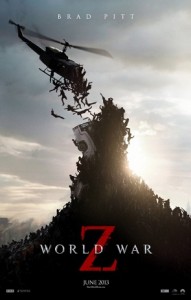 World War Z (June 21st)
Talk about being tardy to the party. Marc Forster's adaptation of the zombie apocalypse-themed novel was due out late last year, but got pushed all the way to the start of the summer. It stars Brad Pitt as a UN employee who travels the globe to find a cure for a zombie pandemic. Numerous false starts have plagued the production, but with the release date set and the promotion campaign kicking off, World War Z will be coming to you very soon.
More about World War Z on IMDb.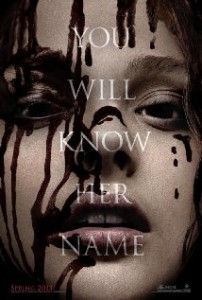 Carrie (November 29th)
Different cast, different era, but the story remains the same. Based on Stephen King's debut novel, Carrie tells the story of a bullied and lonely teenager, who is abused by her religious fanatical mother. But inside her, she harbours an extraordinary power : she has, unbeknownst to everyone, the power of telekinesis, which she can summon at will. When a horrible prank at the school prom goes wrong, Carrie sees no other way out than to let everyone feel just how powerful she is.
More about Carrie 2013 on IMDb.