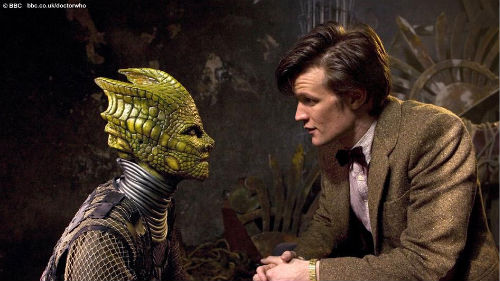 This week in Doctor Who, the Time Lord faces the return of an old and deadly foe: Some soil! See our hero fighting dirt! Be disappointed when he fails to produce a sonic trowel!
Sorry, that was unfair, much like reviewing the first half of a two-parter on its own. The Hungry Earth is not entirely about mud: the Silurians eventually appear. In each new series of Doctor Who, they try and rehabilitate at least one enemy from the old days, and this year its the turn of "homo reptilia".
Cards on the table: I have seen little 'old' Doctor Who, so am not encyclopaedic on historic Silurian portrayals, although Wikipedia suggests the themes were pretty similar. However, unlike the Daleks or Master, there isn't much sense of history invoked in their reintroduction. Only the vaguest of references is made to the Doctor having prior experience of the baddies.
Due to the two-part nature of the story, this is pretty slow. It also feels very old-school. Most of this new series, even fairly conventional episodes like Vampires Of Venice, felt fresher, shinier and somehow 'newer'. I suppose it was inevitable we'd hit a more standard adventure, but it still feels like a comedown.
For the most part, it's a slow build of anticipation for the eventual villain attack. I did enjoy the pay-off confrontation between the Doctor and a Silurian, mostly because they resisted giving our hero melodramatic declarations like "I will stop you, even if I have to eat soil!" for once.
And although it is odd having Amy Pond off-screen for so long, it means Rory has a spell as sole companion. He rises to the challenge without moaning, thankfully. Hopefully this moment in the spotlight isn't a precursor to something awful happening to the poor guy, as I'm quite attached now.
The jackals of dork-trepidation had been sniffing around these two episodes, because they're written by Chris Chibnall. During the early days of Torchwood, he authored atrocities such as Day One and Cyberwoman, and the fanbase has held it against him rather. Pleasantly, The Hungry Earth is nowhere near that bad.
It's probably one of the weaker episodes this year, dragging a little before the Silurians actually show up, but I still prefer it to that WW2 Dalek escapade. How I view it in years to come depends rather on what happens next week.