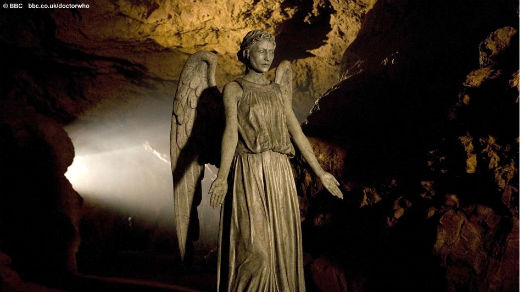 Having survived his first episode and first encounter with the Daleks, Matt Smith's glowing eleventh Doctor comes up against his first two-parter. Fortunately, he has grand high writer Steven Moffat to hand.
Free of the need to delicately introduce our new hero, this is Moffat Unbound. He immediately brings in both his trademark mix of bendy horror-sci-fi and some familiar faces : the genuinely terrifying Weeping Angels and Alex Kingston's enigmatic River Song. I almost wish he'd shoved Captain Jack in there, simply for the trifecta.
The return of the Angels has split the fanbase, simply because their previous appearance, Blink, is so beloved. But someone would've done it in the end, and having Moffat take the reins seems least likely to sully the original.
Admittedly, they are placed in a more generic lumbering villain role here, rather than kept off-screen for maximum terror as before. Thanks to some careful choreography, and chilling moments across both episodes, I think they emerge largely unscathed, but it's a very different type of story.
Writing aside, this episode features another lovely performance from Matt Smith, who continues to avoid the predicted backlash simply by being really good. His professorial, more quick-tempered Doctor gets put under pressure for the first time, giving him a chance to show another side to his portrayal. Karen Gillan faces a similar challenge, and elegantly pulls off the difficult combination of vulnerability without whining.
And then we hit the ending, and Gillan gets to play yet another, um, different aspect of Amy Pond; she reveals that her feelings for the Doctor may extend beyond mere admiration for the scale of his intellect and chin. It's a funny, oddly sweet scene; Smith plays flustered with gusto, accompanied by some comedy business involving his braces.
But, to break out my battered, twisted cynic's hat, I can see why some have expressed trepidation about this direction; after all, we had three years of such dalliances with Martha and Rose. But if this is the plan, at least they've brought it to the boil early. The same goes for the ongoing 'crack in time' story.
Setting up future stories also seems to be River Song's main purpose; it would've been nice if she'd had more to do, especially in the latter half. But still, I thought it hung together admirably, both as a two-parter in its own right and as a chapter in Moffat's ongoing saga. My biggest worry for the future, right now, is that the man himself isn't writing any further episodes until the big climax…