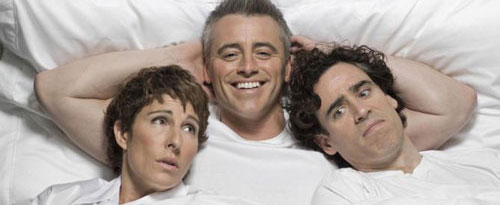 Ever wondered what Matt LeBlanc's been doing since Friends ended and the Joey spin-off barely even started? Well, not much, until the BBC and Showtime launched Episodes last year, one of these trendy Hollywood-based comedies where LeBlanc plays a version of himself.
It's now back for a second season, so since it's graduated beyond one-year wonder, this seems like a good time to ask – should we be watching it?
Matt LeBlanc: Having An Episode
The start of Episodes, as many have said elsewhere, was not that good. Slow, poorly budgeted and, worst of all, unfunny, the set-up period seemed to drag on for an eternity.
The story being set up was as follows: husband-and-wife TV writers, played by reliable British comedy talent Stephen Mangan and Tamsin Greig, try to take their successful UK sitcom across the pond, only to be hampered by shallow US TV exec stereotypes who force unwelcome changes upon them, including casting Matt LeBlanc in the lead.
And, happily, once the series got going, the three main actors settled into a strange co-dependent triangle and developed chemistry. From then on, it at least had charm, helped by LeBlanc playing "himself" as shallow yet surprisingly lovable and charismatic.
The DVDilemma
The start of the second season, even better, seems to have kept the progress going. Yes, it's still as pleasant-if-not-great as it was before. Admittedly, if you really want to be up on what the hell is going on, you'd kinda need to go back and watch the entire first season, and some of that is quite bad.
So it's a strange mixed review for Episodes. If you're willing to dive in and wing it, the new season is a fun enough way to pass the time. But if you can't get past the nerdish need to have seen the whole story in order (and yes, that's a problem for me too), then… either have a stiff drink and attack the DVD set, or just go watch a superior celebrity self-deprecation sitcom like Curb Your Enthusiasm.
If you do want to leap right in, the first episode of series two is on iPlayer right now, and it continues on Fridays at 10PM on BBC Two.