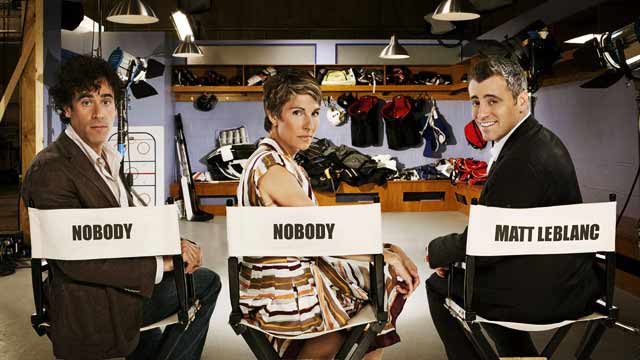 It's not often that the cream of British comedy combines with the genuine American A-list – at least not on TV, our comics do get the odd Hollywood cameo – so to see Green Wing's Stephen Mangan and Tamsin Grieg on screen with Friends' "Joey" in the new BBC sitcom Episodes was always going to be an interesting novelty. Whether it would actually be any good was a different matter…
An intriguing episode
…and after the first 30 minutes, I'm not sure we're actually any closer to finding out the answer. The premise, as you will probably have heard, is that acclaimed British comedy writers and married couple Steve and Beverley Lincoln are wooed by a big American producer who persuades them to come over to LA and remake their classy sitcom, Lyman's Boys – but with Shakespearean actor Richard Griffiths replaced by Matt le Blanc.
I am a huge fan of Mangan, Greig and le Blanc, so I guess I was always predisposed to enjoy this, but on the other hand my expectations were very high, and in the end those expectations certainly weren't met, but that's not to say I didn't enjoy it either.
This setting-the-scene episode didn't really deliver any big laughs, and there was a surprising lack of chemistry between Grieg and Mangan, but I genuinely was beaming throughout, and there were some really lovely touches — the Beverley's magnificent LA house has actually just been vacated by a bunch of reality TV contestants, and Daisy Haggard is wonderful as the humourless Head of Comedy.
The Friends-apologists among you (I am one, unashamedly) will also be happy to hear that Matt le Blanc's superb timing was evident even in the one very short scene he had in this episode. Let's just hope that he avoids the Friends Curse which says that all cast members unfathomably lose the ability to deliver a line in a funny and interesting way the moment they step out of those large NY apartments…
Are you being served?
Michel Roux is an unusual TV chef in that he seems genuinely, well, nice. He's massively respected, but even on Masterchef: The Professionals his haughtiness is only implied because you have to go through an odd preliminary round before you get to cook for him. He's better placed, then, than the likes of shouty ol' Ramsay to lead a bunch of rather vulnerable and directionless late-teens and 20-somethings into a career in Michelin-starred Service.
It's not demanding telly, but it is interesting to see how these young people deal with a job that requires ultimate deference in the face of stressy chefs and picky customers. The main problem with this, though, is the main problem with most reality TV nowadays — the jeopardy quotient is upped for no reason whatsoever. Why make them run a restaurant's service completely unaided after just one training session? It's entertaining, sure, but it's not great.
Whose Line v.2
And finally, a few words on the new improv comedy show Fast and Loose, broadcast on BBC Two, Fridays at 10pm. As a bit of a comedy geek (a bit, ha), I was really excited to see some stars of the live scene (Pippa Evans and sketch group The Penny Dreadfuls' Humphrey Ker in particular) given such a great prime-time platform, but I was also nervous — I'm sure their improv would be wonderful at the recording, but would it translate to TV? Actually, I was pleasantly surprised. There weren't, perhaps, the moments of sparkling genius that made Whose Line Is It Anyway so great, but there is a lovely all-in-it-together camaraderie about it (in stark contrast to a lot of panel shows), and some really gigglesome rounds. Give it some time, and those genius flashes may just come.