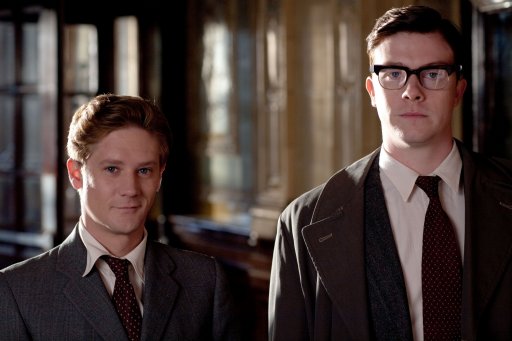 Sometimes, telly gives you something that you suspect was made just for you, and I reckon this was the case with BBC Two's 90-minute biopic, Eric and Ernie. Well, research into demographics is very thorough these days, and I don't exactly hide my televisual preferences under a bushel, so… yes, Big Brother-esque benevolence is the only explanation for its commission. Thanks, Beeb!
What do you think of it so far? Brilliant!
Why was this so perfect for me? Well, as you might have cleverly divined for yourself, it was about the early years of Eric Morecambe and Ernie Wise, and together they're a double act that has the capacity to fill me with misty-eyed nostalgia despite the fact that I'm too young to have caught them first time round.
The joyous, fractious 'cross-talk', the expert timing, the silliness, the cleverness; their influence is imprinted on every comedy performer worth his or her salt, and it doesn't matter how often I see Eric assaulting Previn, or Ernie's hair going all over the place as he manically whisks eggs, I still laugh out loud. And then there's the cast: Victoria Wood and Jim Moir AKA Vic Reeves playing Eric Morecambe's parents? Er, YES PLEASE.
My expectations were, as you've probably guessed, rather high, but they were all met, indeed surpassed. Wood and Moir are perfect as, respectively, Eric's (rightly) pushy mum and laid-back, very funny dad, but both are outshone by the six, count 'em, young actors who play Eric and Ernie as they grow up, become friends, develop their act, and ultimately reach stardom. The stand-out performer is Daniel Rigby, who manages to channel Eric Morecambe's every mannerism and intonation without ever resorting to crass imitation, but huge kudos also to the always-brilliant Brian Dick who excelled despite having fewer recognisable vocal and physical tics to work with.
Sure, the linear biopic structure necessitates a couple of heavy-handed 'eureka' moments, but on the whole this was — as Moir himself says in a recent BBC TV blog — "like a very moving ballad". The banter between Eric and his dad was wonderful, you truly believed in the central relationship, and there were some killer gags along the way that Eric and Ernie themselves would have been proud to perform.
Could it be magic?
Somewhat less successful was BBC One's attempt to put magic back at the heart of family entertainment with The Magicians. It was perfectly acceptable to make the attempt but the format, not to put too fine a point on it, sucks. Lenny Henry hosts, and three genuinely top magic acts get B/C/Z-list celebrities to help them perform a few tricks, with the act which least impresses with the studio audience being forced to do a 'forfeit' trick.
Circuit favourites Barry and Stewart were brilliantly macabre, and Chris Korn did a good job of keeping his own Debbie McGee Bruno Toniloi under control (just), but the competitive element is completely unnecessary, and it seems a shame that only three magic acts are getting this sort of prime-time exposure. The likes of the wonderful 'mind-reader who can't read minds' Chris Cox and the very funny Pete Firman would surely have been welcome additions. Wait, I'm getting something… it's the words 'opportunity' and 'missed'…