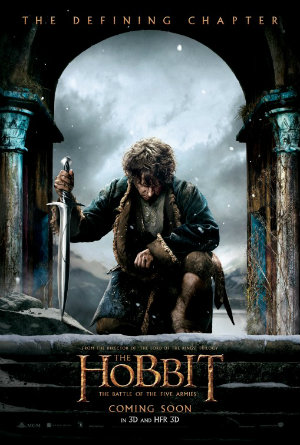 A final trip to Middle Earth, complete with death, destruction and Billy Boyd's dulcet and mournful tones over the soundtrack. For people who sat in the cinemas during the Christmas holidays of 2003, this might seem like familiar territory…
Indeed, The Hobbit trilogy bows out over the holidays with The Battle of the Five Armies. The final instalment is set to be explosive, with the fallout of Smaug's escape and the titular battle at the front and centre. So, what will happen to Bilbo and the Dwarves?
The Hobbit: The Battle of the Five Armies
Director: Peter Jackson
Starring: Martin Freeman, Ian McKellen, Richard Armitage, Evangeline Lilly, Lee Pace, Luke Evans, Ken Stott, James Nesbitt, Benedict Cumberbatch, Orlando Bloom and more
Runtime: Pending
Rated: Not yet rated
Out in cinemas on December 12th
What's it about?
Picking up from the end of The Desolation of Smaug, Battle of The Five Armies shows the fall-out from Smaug's escape and path of destruction. The resulting battle, between the goblins and wargs and dwarves, elves, men and giant eagles in the quest for control of Erebor and Smaug's treasures, will be one that defines the course of Middle Earth forever.
And at the centre of it is Bilbo Baggins, whose loyalties with the increasingly unstable Thorin Oakenshield are seriously tested. Who will end up surviving this battle?
See it because…
Five Armies is promising to be a hell of a trilogy closer, and hopefully it will be the cherry on top of the Hobbit experience. Whether you've just been introduced to Middle Earth through The Hobbit films or you've been on this journey from way back during the Lord of the Rings days, The Battle of The Five Armies is a must-see.
It makes me nostalgic, it does.
And what about you? Will you, as Thorin asks Bilbo in the trailer, follow them? One last time?
The Hobbit: The Battle Of the Five Armies will be in cinemas from December 12th.
More about The Hobbit: The Battle Of The Five Armies online