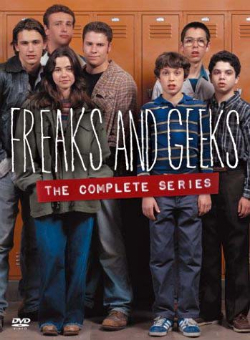 Freaks and Geeks was a high school comedy-drama which you don't want to describe as such, because it has so much more depth than that description suggests.
It was produced by Judd Apatow and, since it was so good, VER MAN cancelled it after one season after deciding it had achieved TV perfection. Either that or not enough people watched it.
Set in the early 80s in suburban Michigan, at the show's centre were Lindsay Weir, played by Linda Cardellini, and her little brother Sam, played by John Francis Daley. While Sam hangs out with his dorkling pals (the "Geeks"), obsessing over Star Trek and Steve Martin, Lindsay attempts to deal with her decision to leave behind her Mathlete history and become accepted by the pot-smoking, class-skipping "Freaks". Hilarity — and a fair amount of pain — ensues.
Like Firefly, My So-Called Life, and, er, Eldorado, Freaks and Geeks now exists in the Cancelled Too Soon By Idiot Executives hall of fame. Not only does it deserve its place, but – and I say this as an Angela Chase fan 4life – it deserves the number one spot.
HEREISWHY
1. The Opening Credits
Rare are the opening credit sequences that manage to make you laugh and teach you something about a show's characters before it's properly begun. Freaks And Geeks managed this by using the neat trick of having its credits double as a yearbook photo shoot, with each character having their turn in front of the camera.
Each character's reaction to this dreadsome ritual tells you a little something about them. Bill Haverchuck's glare of loathing following his huge fake grin makes me laugh every darn time.
2. The Characters
Oh Lord, how do you pick a fave character on Freaks And Geeks? Bill Haverchuck seems to be the cult hero among the show's hardcore fans, and it's hard to argue with that. Let us be clear about this – Bill was the template for Napoleon Dynamite. Only, he was someone you wanted to hug rather than run the hell away from.
You know the kid at school who had the same awful glasses for years, walked around with his mouth hanging open, talked like his gums got in the way of his tongue? That's Bill. He hates sports, loves Steve Martin and is allergic to peanuts.
Regarday this scene. I love how it starts as an apparently downbeat clip, before showing Bill taking utter pleasure in the very simplest things in life.
You just know he spent all day at school looking forward to his time in front of the box. And what nerdlinger hasn't felt that way?
My second favourite character is Nick Andopolis. He's a stoner with dreams of being a drummer, and has a massive crush on Lindsay. So obviously he writes a song for her. Unfortunately — or, perhaps, fortunately — he road tests it on his laconic friend Ken (played by Seth Rogen):
My third favourite character appears all too rarely. He is Harris, and he is a fan of Dungeons And Dragons. Not that you could tell from looking at him:
While these are my top three, the fact is that this was a show which such well-defined characters that they all deserved much more screen time.
3. The Cast
Freaks And Geeks was created by current Hollywood comedy capo Judd Apatow, and it's also where several established actors first made their name.
Seth Rogen, James Franco and Jason Segel have all had proper big screen success, and Busy Phillips and Linda Cardellini carved out decent careers in ER/OC/Dawson's Creeksville.
Shame John Francis Daley hasn't been in anything anyone actually watches (Bones, Boston Public), but I was delighted to see Martin Starr (Bill) playing an older, much more bitter kind of geek in the (er, recently cancelled) Party Down.
3. The Writing
A fine cast would mean nothing if the actors had nothing to work with.
I've already outlined my favourite characters on the show, but it's worth saying that all of the main characters — from kids to teachers and parents — are brilliantly-conceived. Likewise, the plots used within the overall story arc are identifiable for their adherence to the kind of things everyone encounters when growing up. It's a testament to the skill of the writing that, despite this universality, cliches are avoided.
Being too old for Halloween, becoming a laughing stock for breaking the unwritten rules of teenage fashion, bullies, drugs, the friends you grow out of, the friends who grow out of you, changing rooms, crushes… They're all there, and they're all handled with warmth, empathy and humour.
Witnessing Mr & Mrs Weir handle their little 'uns growing up is heartbreaking at times, and shows how the writers acknowledge that it's not just the teenagers who struggle to cope with the changes.
Take Momma Weir's well-meaning attempt to reassure insecure Sam about taking showers at school:
4. The Pain
By the time Freaks and Geeks came along, teenage misery had already been well mined in films and TV. But it was the detail that the show used that gave it the extra pinch, so the viewer often crossed that line from feeling mildly concerned to developing a lump in the throat.
So Sam gets egged by a bunch of mean older kids on Halloween — one of them being his unwitting older sister Lindsay. When she finds out and tries to apologise to him as he stands in his egg-soaked cardboard robot costume, it's hard to know which one of them feels more anguish. The same episode sees Lindsay ruin her Mum's plans for some wholesome celebrations, and, again, Lindsay's hurt at inflicting the pain is as acute as her Mum's at being on the receiving end.
Even when apparently irredeemable bully Alan spikes Bill with a peanut — to which Bill is allergic — we learn that at the root of his meanness is a desire to be (oh yes) "accepted". But wait! It's done really well! Look!
5. The LOLZ
For all the pain in the show, there are more than enough laughs to balance things out. From slapstick and general buffoonery to one-liners and putdowns, virtually every character has comic moments that help you warm to them that little bit more.
Again I must turn to Bill Haverchuck here, whose lessons in sexy dancing I have followed to the letter for the last ten years:
Someone I've neglected to mention thus far is Mr Rosso, the school guidance counsellor. He has some priceless moments, not least when he tries to talk the freaks out of their bad behaviour through the medium of… Alice Cooper:
Basically I could go on and on all day about this, but essentially what I'm trying to say is that Freaks and Geeks is one of the rarest, most perfect TV treats ever and deserves to be watched by more people.
Maybe if enough people buy the Freaks and Geeks DVD boxset, with Apatow's new clout we could even see an updated version of the show one day telling us where everyone ended up.
Of course, THIS MUST NEVER ACTUALLY HAPPEN.
Stuart Waterman is supreme overlord and editor of the web marvel that is My Chemical Toilet. The ultimate music magazine online. Read it, it will make you do LOLs. You can also follow My Chemical Toilet on Twitter.