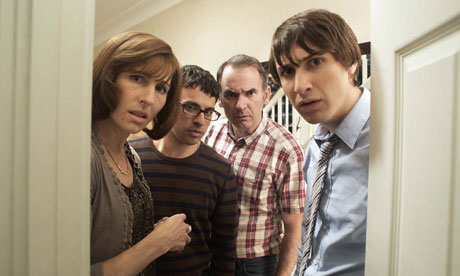 It's unusual for a British comedy to go straight onto Channel 4 these days, without having to work its way up, Inbetweeners-style, from the network's digital outpost E4. So with Friday Night Dinner appearing fully-formed in what should properly be described as The Peep Show Slot, the commissioners clearly had a lot of faith in this new comedy…
And if they have used only Twitter to establish whether the show was a success, then I assume that they're still quaffing the champagne several days after transmission.
The praise was unequivocal, but then there always was 'a lot of love' for this show, even before it got to our screens — the main reason being that it is written by Robert Popper, the man who brought us the excellent Look Around You, produced Peep Show, commissioned the likes of Spaced and Black Books, and wrote the wonderful Timewaster Letters books. He's a talented, and deservedly much-loved guy. Add to this a lovely cast including Tamsin Grieg, Mark Heap and Simon Bird and you can see why they skipped the E4 step.
Being a 'proper' reviewer, I obviously canvassed opinion more widely, and can report that my dad thought it was "a dud", while my mum said "not a barrel laughs", but it could grow on her.
Which just goes to show you can't believe everything you read in 140 character chunks.
My own opinion lies somewhere between the Twitter/Dad extremes; I'm not sure it's quite the shimmering masterpiece some have claimed it be, but I sure did enjoy it, and time in the company of these performers is always time well-spent.
For those who missed it, Friday Night Dinner follows the Goodmans, with twenty-something brothers Adam (Simon Bird) and Jonny (newcomer and stand-up Tom Rosenthal) coming back to mum and dad's house each Friday for a family meal. It took a little while to hit its stride, but neighbour Jim's oddness was a real delight (Mark Heap is great as ever) and there's a nice, easy chemistry between all the family members. Plus, any show which brings Garth Marenghi himself, AKA Matthew Holness, back to our screens, is to be welcomed.
It's worth giving any comedy time — I wasn't totally convinced by either The Trip or Grandma's House at first, and they ended up being two of my favourite shows of last year — so while this wasn't an unqualified success, I'd put a sizeable sum of money on it getting better and better.
Out in the midday sun
Thanks to the magic of catch-up TV, I'm now completely up to date with Sky 1′s Mad Dogs, and I have to say I am loving it. The second and third episodes have been an absolute masterclass in the blackest of black comedy (who thought the mutilation of a corpse could be so damn funny), and the central cast of John Simm, Philip Glenister, Marc Warren and Max Beesley have worked together brilliantly. Quiet, odd, funny and lovely to look at, it's a total winner.
Next week, I suspect we'll all be reaching for the tissues with Comic Relief's Famous, Rich and in the Slums.