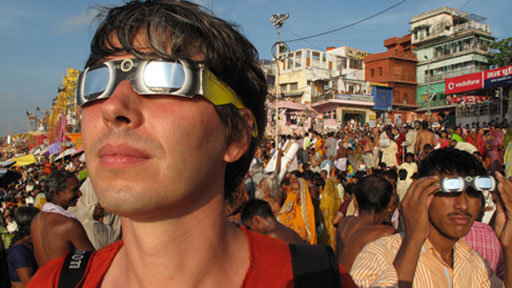 Professor Brian Cox is one of those ultra-annoying people who are just TOO cool. He was in a chart-topping band associated with a dawn of a new political era (that'd be D "Things can only get better" Ream) and now he's forged a second – and let's face it, even cooler – career as a top physicist. He's worked on the Large Hadron Collider, advised the makers of Danny Boyle's Sunshine and regularly appears on radio and telly. The guy's been on The Colbert Report, for goodness sake! And now he's back on primetime BBC with the aim of explaining little old Earth's place in the big (not really blue) yonder.
Wonders of the Solar System, which starts on BBC Two this Sunday at 9pm, will see the Professor visit some pretty extreme terrestrial locations to show how we fit into the Milky Way, and the ways in which it affects our planet. In this opening episode, Cox concentrates on the Sun (hence the not-so-cool shades), perhaps the most important force that impacts upon us; visiting India for a solar eclipse, making contact the Voyager probe which left Earth 30 years ago, and heading way north to experience the Sun's winds in action – the Aurora Borealis.
If you're anything like me, then you're an enthusiastic layman when it comes to space – excited by it, confuddled by it, but always eager to learn, safe in the knowledge that it is so vast and impossibly complex that knowing a little more is unlikely to dispel its magic and mystery. Plus, on past experience, I've no doubt that Cox will be a charming presenter who neither blinds us with unfathomable science nor takes us for idiots. And he looks alright too, I guess. In short, Wonders of the Solar System looks set to be perfect Sunday viewing from which we will all emerge a little wiser… In the meantime, here's a short preview to get the old grey matter warmed up.