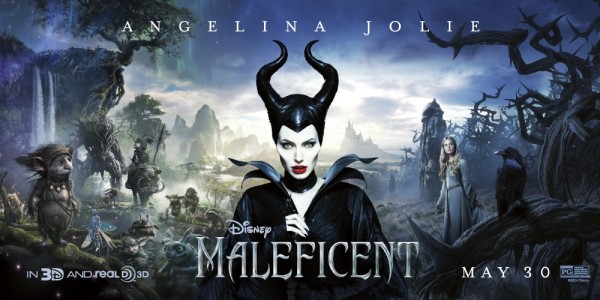 You think you know the story, but do you actually know the story? This week, Disney unleashes their live action re imagining of fairy tale classic, Sleeping Beauty. With Angelina Jolie as the fairy with the world's greatest cheekbones, surely you can bet that you're in good hands for this film?
Right?
Let's take a look at Maleficent then…
Maleficent (2014)
Directed by: Robert Stromberg
Starring: Angelina Jolie, Elle Fanning, Sharlto Copley, Sam Riley, Imelda Staunton, Juno Temple, Lesley Manville, …
Based on: La Belle au bois dormant by Charles Perrault and Little Briar Rose by The Brothers Grimm
Running time: 97 minutes
Certificate: PG
Out in cinemas now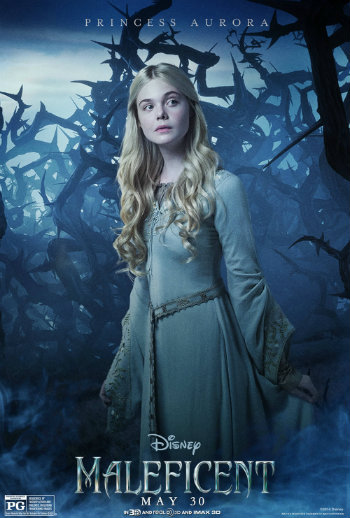 The story
Turning the tale of Sleeping Beauty around, we focus on Maleficent (Ella Purnell, Isobelle Molloy), the young fairy who rises to become the guardian of the gorgeous moors that are her home. Her peaceful life is disturbed when a young boy called Stefan intrudes on her domain – but soon both of them become first friends, then true loves…
Or do they?
When the adult Maleficent (Angelina Jolie) is ruthlessly betrayed by Stefan (Sharlto Copley), she crashes his daughter Aurora's christening. And in return for shattering her heart, she puts a curse on Aurora that can't be broken by anything but true love.
Little does Maleficent know that, throughout the years, she will come to regret doing so…
So… good film?
First of all, can we please stop casting Sharlto Copley in the role of the man who loses his shit by the end of the film? Come the final confrontation, his King Stefan felt a bit less like King Stefan and a bit more like his character Kruger from Elysium.
Indeed, that's how dark Maleficent wants to get, without getting pitch black on us. It is incredibly admirable to take this direction with a Disney film, based on such a well-known tale. And I absolutely applaud anyone who can take a time tested fairy tale and shake it up like this.
Jolie good show
For much of its lean, 97 minute running time, Maleficent is a solid cracker. Released a bit too early in the year to compete for summer box office gold, but it feels all the better for it. The star attraction is of course Angelina Jolie herself, as if you wouldn't have guessed that from the way she looks at you on the film posters. Cheekbones done up to eleven, menacing contact lenses, the horns and a striking pair of wings all add to the visual feast that Jolie provides. She is clearly relishing in her role – and the heartbreaking scene in which she realizes just how far Stefan has gone to betray her serves as proof that she was the right person for this role all along.
The rest of the cast try their best, but there are some rather standard performances. Elle Fanning is an okay-but-not-quite Princess Aurora (although I do hope to see more of her in the future), Brenton Thwaites hardly gets any screen time as Prince Philip and, as I mentioned, Sharlto Copley gets a bit too intense for my liking as Stefan.
Something's missing…
And then there's the issue of just how much of this film was left on the cutting room floor. Despite boasting the casting of Peter Capaldi and Miranda Richardson as King Kinloch and Queen Ulla, neither of them are anywhere to be seen. Indeed, neither the film's IMDb page nor the end credits seem to acknowledge they were even there. Unless I'm mistaken, of course (feel free to correct me).
I also had issues with Hannah New as Princess Leila – Aurora's mother. Not that New doesn't give a good performance… rather, she's not really getting enough time to give a performance at all. She only appears in the christening scene, and is barely acknowledged afterwards, apart from one mention to King Stefan about her requesting his presence since she's unwell.
If that was done to give more screen time to Stefan's rather unnecessary descent into madness, then that was a big mistake.
Into a decent, visually gorgeous film
But overall, Maleficent is a good film. It has plenty of unexpected but lovely comedic notes ("You're my fairy godmother!" "…What?") and Sam Riley as Maleficent's right hand man/crow Dioval is a lovely performance.
I would even go as far to say that this is a somewhat feminist film, revamping a traditionally misogynistic fairy tale into a film which, while still having its tropes, touches on subjects like the fear of female puberty and betrayal and heartbreak with a very deft approach. And for that, I can only say "Cheers to you, Maleficent."
Not perfect, but definitely unique.
Disney's official Maleficent website