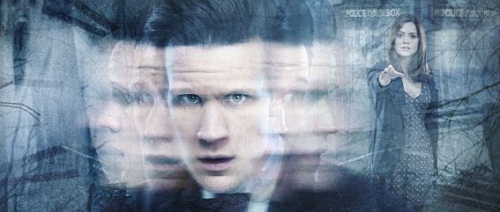 People had been whispering about a potential change-of-Time-Lord at Doctor Who for a while, so after rumours of an "upcoming big announcement" hit the internet last night, it wasn't a huge surprise when it turned out to be Matt Smith leaving the show. Our floppy-haired hero will appear in November's 50th anniversary special, then leave forever in the Christmas episode.
Another miserable festive season thanks to Doctor Who, then. Was David Tennant's March Towards Tragedy 2009 not tear-jerking enough for them? Apparently not – so, what do we think of all this?
Do We Hate Him For Leaving?
No, not really. Matt Smith has done almost the same number of episodes as predecessor Tennant (three full series and a handful of specials), and a TV show stiny of roughly three years seems to be about standard for a British Actor nowadays. It's still a shame from a quality standpoint, though; he's been great in the part, full of quirk and charisma – even in the weaker stories, Smith's performance was rarely the problem.
It is also kinda sad that his final series was also the most middling and inconsistent – nonetheless, hopefully his farewell in these last two specials will be amazing and that'll be what we can all remember.
Most recent episode The Name of the Doctor was good fun, as was 2012 Christmas effort The Snowmen, so Moffat can still deliver. Let's see it.
Who Do We Want For Doctor Twelve?
And with Smith's exit, we get the casting speculation for a new Doctor. Hopes are being espoused on Twitter for the first non-male and/or non-white Doctor – if they can find the right actor, I'd be up for that. The long-rumoured Paterson Joseph would be cool; people keep mentioning Olivia Colman and she's always great, if she's up for sci-fi; Zawe Ashton has come up a few times, and her Fresh Meat character did have Doctor-esque qualities.
But by the same token, I'd also be happy with someone from the usual demo if that's the way it goes. Damian Molony from Being Human has got the quirky/dramatic/comic charisma to pull it off, I feel. Harry Lloyd (aka Viserys from Game of Thrones) could be good too – yes, he already played a villain in a series 3 two-parter but these things can be written around/ignored.
In short, casting is one big thing Moffat has consistently gotten right over the years, in both Who and Sherlock – series seven of Doctor Who had its problems, but Jenna-Louise Coleman wasn't one of them – so I'm pretty much happy to see where he takes us.
But for now, our main focus is waving off Matt Smith. Looking forward to seeing how they finish his story. Do you hate him for leaving? Who do you want as the next Time Lord?