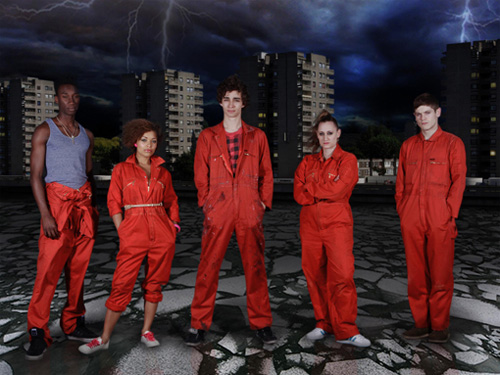 This week E4's highly-anticipated new drama Misfits hits our screens. It's being tapped as a kind of Skins-meets-Being Human-meets-Heroes romp, and it's all about a group of misfit yoofs on community service who get caught in a freak hailstorm that gives them super powers.Yep, so far, so haven't-we-seen-this-before?
But a couple of weeks ago I was lucky enough to get a sneaky peek at episode one and I was actually pleasantly surprised…
First up, you have to bear in mind that Misfits was conceived before Heroes was even on your tellybox. It's true it fits perfectly with the current zeitgeist for Being Human / True Blood style anti-heroes to the point where you wonder if someone at E4 went "right, we need something with kids! Cool, edgy kids! But…with superpowers!" but it's been in the works for a long time, and has more British grit than what's come before it.
Far from having the Hollywood gloss of Heroes, or the sometime-sitcom feel of Being Human, this show is dark. It's made on a small budget, it's not bothered with all the special effects, and it's intelligently written. One fellow blogger compared it to Charlie Brooker's Dead Set, and I think that's a pretty good comparison. The opener had as many jump-out-your-seat scary moments as it did laugh-out-loud jokes (disclaimer: I'm a big fat wimp) and, for reasons I shall not discuss, had a bit of Shaun Of The Dead vibe in places.
Without giving too much of the episode's plot away, your orange jumpsuit brigade are 'I'm not a slut' Alisha, disgraced sports star Curtis, chavvy Kelly, quiet weirdo Simon (he has a brilliant Twitter, if you're that way inclined) and mouthy Nathan. Each find themselves with powers that reflect their emotions at the time of the storm…something that we'll apparently see a lot more of as the series goes on.
The cast are well chosen and do a good job with their characters, particularly Iwan Rheon as Simon. There's the odd supporting performance I wasn't so sure about, but as this is about the four leads, that doesn't really matter.
As much of episode one is about introducing the characters and moving the plot forward, I'll reserve judgement on whether this is the new show you don't want to miss. But it has definite potential.
It pays homage to a well-loved genre whilst remaining modern and fresh. What's most interesting to know is that writer Howard Overman isn't a comic book fan, something the geeks found difficult to believe having seen a certain X-Men reference in the first episode!
Misfits starts on E4 on Thurs 12th November at 10pm.