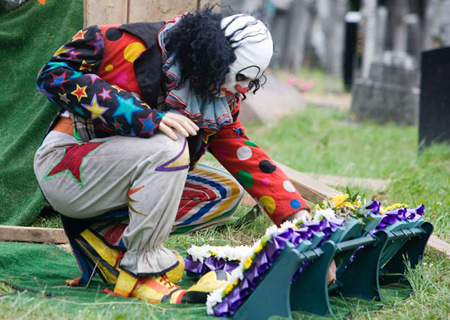 At the moment, comedy on TV is dominated by panel shows, and while the combination of funny people with a decent format is usually a winner, it has to be said that there is something special about a great scripted comedy. And Psychoville is certainly that.
The first series was everything I love in a sitcom – great characters, a healthy dose of silly, a lot of darkness, a few satisfying pop culture references, a genuinely intriguing storyline and a high gag rate. I haven't entirely made my mind up yet, but I *think* it's probably the best British sitcom since Spaced. Come back to me.
The first series followed a group of disparate and generally messed-up characters who were drawn back to a grim mental institution they'd all had the misfortune to inhabit. The series came to an end with, quite literally, a bang, and this series picked up the story at the funeral of one of the victims of that explosion – Mr Jolly. Anyone who saw the first series will know that one of main characters (and my favourite) Mr Jelly is constantly being confused with his near name-sake – cue typos on the wreaths and gravestone.
This opening scene in the graveyard was one of the best things I've seen on telly in a good while — brilliant sad-clown music, ace visual gags, and Reece Shearsmith as the ever-frustrated Mr Jelly on top, top form. He shines too as new character Jeremy, an over-officious librarian haunted by the scary "Silent Singer", and who got the line of the night in an exchange with a customer who didn't quite grasp the gravity of a book being overdue. (The line is simply "5p" — watch out for it as you catch up with the whole of Psychoville 2 on iPlayer).
The reminder of key facts from the first series was subtly and funnily done, and the new characters — particularly Jeremy and the evil-seeming Matthews (Imelda Staunton, apparently having a blast) — look great. It's just a shame you only get 30 minutes at a time.
Sit Down for 90s nostalgia
You might remember that a few weeks ago, I, along with my entire music-loving, going-out-on-a-Friday-hating Twitter feed, was glued to BBC Four's night dedicated to Top of the Pops in 1976. Well, you can't say the Beeb doesn't recognise a good thing when its got it (actually you can, just not in this case) as Friday was another winning nostalgia-fest, this time based around the year that brought us Primal Scream's stunning Screamadelica: 1991.
Yes, the 90s are ripe for nostalgia now, people, get used to it. But oh, Movin' On Up: Pop Hits From 1991 was so much fun. There's Ride looking so timelessly cool they could be just easily be from the 60s or 00s; over here we've got KLF putting on a show; here's Vic Reeves corpsing during his performance of Dizzy with The Wonder Stuff. It's cheap, easy, some would say lazy programming.
And I love it.