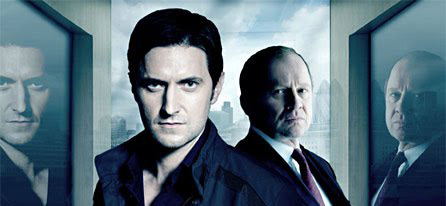 Spooks is back! One of the few action dramas to last on British television without being aimed at the "family" audience, I never stop enjoying it on some primal level. Yes, it long ago abandoned any pretence at realism, but usually balances itself just right on the barrier between fun and serious threat.
And it's still more convincing than bloody James Bond. Anyway, the show has had its up and downs, but the last few years have been rather decent. So, how's it looking with the beginning of this impressive ninth series?
Out With The Old, In With Sophia Myles
It opens on a bit of a bum note by confirming that Ros Myers, the wonderful Hermione Norris, died in last year's cliffhanger. I adored that character, and even though the press for the new series had more or less confirmed her demise, I lived in hope.
Never mind. Spooks, always known for its enthusiastic cast turnover, burned through a ridiculous three characters last year, so new blood was inevitable. Max Brown joins as Dimitri, and is thrown straight in as a chummy lieutenant for our Lucas North.  He seems pleasant enough, which may be a bad sign. Usually when the Spooks writers produce a character who isn't mentally unstable, they get bored and kill them shortly later.
Sophia Myles, meanwhile, is Beth, some kind of morally flexible maverick. She doesn't get much to do this week, but still manages to annoy me with her sassy she-spy act. I'm probably bitter because I miss Ros.
Ripped Off From The Headlines
The actual plot is a bit thin this week, but I suppose you need these to get the engine running. Somali pirates put in an appearance, narrowly missing Talk Like A Pirate Day, and there are some not-at-all veiled references to the coalition government. It's quite sweet that Spooks wants to be current and relevant.
Especially since there is also gibberish computer-hacking that verges on science fiction, not to mention a dodgy CGI sequence with some submarines. It's not going to be mistaken for a documentary quite yet.
So this wasn't amazing, but a perfectly serviceable episode to showcase the team Doing What They Do. Hopefully in the coming weeks, we'll see some more ambitious plots and the hinted bigger storylines will come to fruition.
The unsettling Ruth/Harry sexual tension is also mentioned, but I chose not to comment on it. But you should feel free to discuss that, and the rest of the episode, below.
What did you think of the return of Spooks?