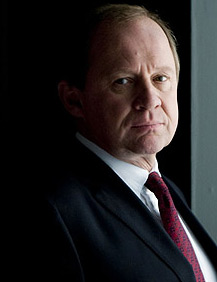 This week, at last, Spooks throws caution to the wind and gives us a ridiculous plot involving a high-speed chase, the whole of London at risk and one of those deadly nerve agents that seem alarmingly common in Spooksland.
If this was meant to be a deadly serious espionage drama, this would be an excursion into lunacy, but for these guys, just another day in the office. So, was it a success or a big splashy failure?
Big Action Sequences
The raising of the stakes means there's little melodrama within the team this week, just crazy rushing from shoot-out to shoot-out, along with those ruthless moments where Spooks reminds us that it can be a cruel master. And, as in all the good episodes, there are silly twists to stop it getting predictable.
Although everyone was on decent form, the winner of the week was clearly Sir Harry Pearce, played as ever by Peter Firth. He brings the one-liners, the heavy moments of command and, yes, the inevitable sexual tension moments with Ruth, but they weren't as annoying as usual. I really hope they're going somewhere with it.
I also gleaned a chuckle from Lucas and Beth re-enacting Casualty at one stage; I'm sure they must have hammed that up for the laughs. In fact, it was nice to see Beth getting on with the job with minimal sass or disloyalty for once.
Little Silly Niggles
Admittedly, new chap Dimitri still has little to do, apart from seeming pleasant and reliable. But that's one of these complaints you come up with when thinking about it for one's internet review, it doesn't actually harm your enjoyment of the episode.
In a similar vein, the subplot about Lucas North's hidden past is starting to drag on a tad; hopefully it'll pick up urgency soon, or at least relevance to the rest of the cast. I assume these secrets will lead to a wider catastrophe as we get into the latter half of the run; I heard something about an "Albany" file?
But these niggles are merely niggles, I thought this was a great instalment. A bit of genuine drama, some proper twists, a few good lines. If they'd killed off a regular cast member as well, it would've been a near-perfect execution of the Spooks formula.
Check the new episode out on iPlayer here, then let us know below if you liked this one too.
More Spooks on Dork Adore | Spooks – Series Nine Death Pool