For the third week in a row, Strictly Come Dancing has managed to beat out The X Factor in the ratings stakes. But that should be no surprise – this year is proving to be a rip-roarer of a competition.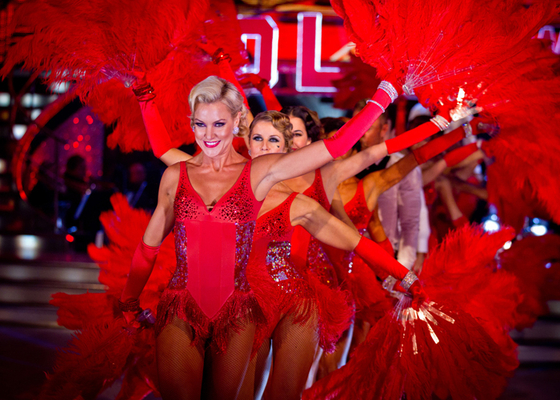 Despite the return of the much-maligned dance off, this year's cast continued to be stellar throughout week two. Sadly, television mathematician and all-round good egg Johnny Ball danced his last dance, and 13 couples waltzed into Hollywood week.
Where it all went a bit wrong…
And So To Hollywood…
I must admit that I have a massive issue with themed weeks. When these were introduced in series eight, along with the use of props, there was a slight cry of outrage. Props, you say? In ballroom dancing, you say? No! It demeans the Sanctity of Dance!
The result of the combination of props and theme weeks was truly bonkers. Scott Maslen briefly became a monster, conjured up from Natalie Lowe's magical bubbling cauldron (Halloween Week). In the same show, Gavin Henson briefly became Satan (!) and did unspeakable things to Katya Virshilas. And right about the time eventual series 9 champion Harry Judd did an unfortunate salsa/elaborate scarf dance combination in the middle of Wembley Arena (you guessed it, Wembley Week), I began to lose the will to watch theme weeks.
But they are back in place for series ten. And as if Hollywood Week (the artist formerly known as Movie Week) wasn't enough, next week we are taken into the deep dark of the soul for Halloween Week Version 3.
But let us firmly place our focus on the past two weeks, shall we?
First up…
Box Office Smash!
For one week only, Denise Van Outen and James Jordan become Jessie and Woody. Yes, they are dancing Foxtrot to You've Got A Friend in Me, Toy Story's seminal anthem about everlasting friendship.
Denise continues her good streak, coming off a bouncy and glorious jive (danced with whiplash, natch). She continues to shine, despite the slight hiccups with wardrobe (because really, who can pull off a cowboy outfit beyond the age of five?). Between week two and Hollywood week, she has shown to be a competent contestant. But is competence enough to get her through to the latter stages of the competition? Time will tell…
Dani Harmer transformed into Dorothy from The Wizard of Oz (but what was Vincent supposed to be, I ask you?) and danced to (of course) Somewhere Over The Rainbow. If you weren't already blown to pieces from the cute, Team Polly Pocket had a little trick up their sleeve, in the form of, and I kid you not, a little Toto dog running out on stage. The dance itself was gorgeously executed, and Dani continues to show major potential. Between week two and Hollywood week, she has continued to cement herself as one of my Ones To Watch.
It had to be done. It was Hollywood Week, and no tribute to the silver screen (at least not on this show) would be complete without a little bit of Dirty Dancing…. This year, Louis Smith transformed into the role of Johnny Castle, with Flavia as his Baby. And it worked. Nary a prop in sight, DAT LIFT firmly in place, and Louis's charisma coming to the foreground at last. Sure, it was supposed to be a salsa, but I will gladly settle for my yearly reminder that Dirty Dancing is a significant part of dancing history.
Between week two and Hollywood week, Louis has grown on me. And that is a definite plus.
Box Office Crash!
Michael Vaughan and The Full Monty are not two things I like hearing in the same sentence. I come firmly biased about said film, as it is one of my all time favourites. The casting is pitch-perfect, Robert Carlyle shines as Everyman steelworker turned stripper Gaz,  and I can not deny that the final striptease is surprisingly sexy.
But having made the nation collectively keel over in laughter with his lumberjack jive last week, my hopes weren't high. And… yeah. A dance happened. It consisted mainly of Natalie and her dress. And Michael nearly crashing through the set at the end. Between week two and Hollywood Week… Shall we just move on to the next one?
This week, Jerry Hall took the fall. But she did leave us with a parting present. A quickstep homage to her stint as the iconic Mrs. Robinson in the stage version of The Graduate. There wasn't much to say about it, really – other than that it happened, and that I am well past despair when it comes to Anton Du Beke's partners. Give that man someone who cares about this competition and is willing to put the maximum effort in!
Between week two and Hollywood Week, Mrs. Robinson fizzled out fasted than a match under water. I've already joined the Give Anton A Decent Partner In 2013 foundation. Which I founded.
In A League of Their Own
Brilliant ~ Lisa Riley. Lisa continues to spark up this competition by the simple act of being herself. She works amazingly well with partner Robin Windsor and their jive to Dick Tracy anthem Hanky Panky was full of every superlative the Strictly judges use on a weekly basis. Between week two and Hollywood Week, Lisa got game.
Oh For Christ's Sake ~ Sid Owen. I may be completely alone in this. I may even get slightly shouted at. But I do believe that Sid has potential. Somewhere in there is a reasonably competent, Chris Hollins-esque dancer. But a tango to Whitesnake's Here I Go Again On My Own is NOT the way to go. At all. Ever.
The Ola Jordan Catsuit of Doom is out, the head-banging is present and there is exactly ten seconds of a semblance of a dance before Sid completely forgets what he's doing and just fumbles around with a guitar that sets itself on fire. Between week two and Hollywood week…. I'm done.
Conclusion
Strictly Come Dancing continues to be solid, and the one to watch on a Saturday night. But if you leave out the Comedy VTs, the theme weeks, the props and the frankly quite ridiculous comments from the judges, you might just have the stuff of legends on your hand.
In the battle between Ballroom Blitz and Singing Sensations… Strictly is 3 to nought.
For more information on Strictly Come Dancing, visit the BBC's Official Strictly Website.