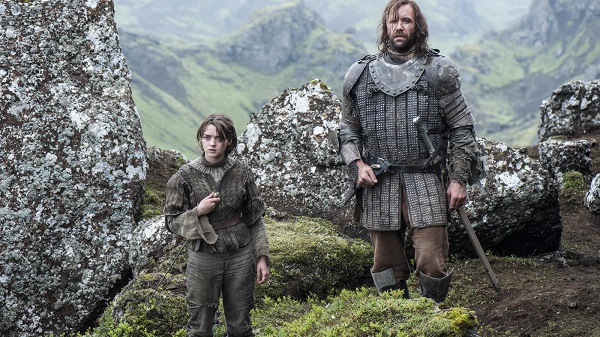 And so, after another ten weeks of fictional sadism and very real suffering, we reach the end of Game of Thrones season four. Unlike all the other years of this show, this time the final episode of the run is the climactic point, bringing a kitchen of pots to a cloud of boils.
And we've reached the end of adapting book three as well, so no more messing around. Things are definitely going to finish this time.
Right? (Spoilers follow as ever.)
How To Contain Your Dragon
Well, this is serialised television, so nothing ends, but we see a lot more real climaxing than last year (not like that, there's hardly any sex on this show nowadays), as people have confrontations, pay for their sins and face up to whatever's coming next year.
Well, except poor Daenerys, who muddles along, discovering that being a big principled ruler isn't as easy as she hoped. Sometimes she has to make sacrifices, like allowing might-as-well-be-slavery and caging her beloved pets/children. Still, you can tell it's an important episode because we saw some dragon effects.
I wouldn't exactly say I don't care about her scenes, but they feel a bit low-impact. Hopefully next year will see trouble in paradise.
Squabbling Starks Section
Meanwhile, Arya and the Hound finally go their separate ways, after an excitingly brutal battle with Brienne. Although the epic upscale warfare last week was impressive, this show does head-to-head violence much better, and this was a great sequence. Just as powerful, though, was Arya's final scene with the fallen Hound. This storyline meandered a lot, but the performances were so good, I damn near don't care.
Elsewhere in wandering Starks, Bran and co finally reach the big tree and encounter a load of magical stuff that wasn't as satisfying as the afore-mentioned swordfight. Still good to see the possibility of his storyline moving on, but I can't say I hugely felt for the dead kid. Sorry, dead kid.
Arya travelling to Braavos though, that has potential. Maybe she'll get to meet Mark Gatiss?
Do I have time to make a call first?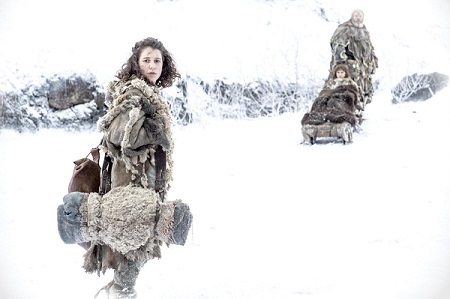 And meanwhile, up North, Stannis finally arrives to save the world from White Walkers! Remember when he vowed to do that, in the previous season finale? And then took an incredibly long time to get round to it, including stopping for a meeting with his bank manager?
Both the Wall and Stannis plot threads have been a little stuck in season four waiting for this major development, not finding much to do in the meantime. Still, we've made it now, hopefully this will take them exciting new places next year.
I'm given some hope by the Wall scenes in this episode being rather good – enjoyed the Jon Snow/Mance Rayder face-off, the subsequent armed intervention and the final few scenes wrapping up Jon's feelings for Ygritte. Hopefully it's a bold new dawn.
Cry Me An Emmy
Lastly, then – Tyrion is let out of his cell, only to rush off and cause trouble. I'm sorry to see Charles Dance's Lord Tywin go, entirely because I'll miss him on screen. The bastard deserved it, even if I'd have liked more chances to see him reacting to those incest revelations.
And Peter Dinklage, as often happened this season, turns up at the very end of the episode to try and steal the whole thing with a wracked performance. It's heavy stuff, but he is paying off two or three years worth of plot here. Good job.
We end with Tyrion, like many other characters, heading off towards an unfamiliar and uncertain future. If nothing else, I liked that about this Game of Thrones finale – the promise that next year really can't be the same.
A Storm Of Summary II – The Concisening
Yes, a direct sequel to last year's Storm of Summary.
In short, then, another season of Game of Thrones I enjoyed a lot. I don't quite have the unequivocal love I had for last season – there were a few times where plots felt padded, characters disappearing for weeks at a time as they waited for their end-bit, that oddly pitched rape scene – but when it was good (which was often), it was excellent.
And as has always been the case with Thrones, if you're not enjoying a storyline, they'll cut to another one soon enough. And now that we've seen those book three plots properly concluded, I look forward to seeing them plough a whole new furrow in season five. Exciting times.
More Game of Thrones on Dork Adore | Game of Thrones: The Watchers on the Wall – Dork Review