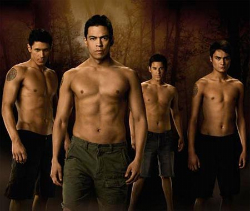 The release of Twilight: New Moon brings with it a flurry of merchandise emblazoned with the 'Team Edward' and 'Team Jacob' slogans.
I'm so Team Jacob.
Let's be honest, the CGI is much better for the wolves, whilst Edward has to be content with a bit of a shimmer in the light.
Want to know how the wolves are created in the film? Have a look at this nifty little video.