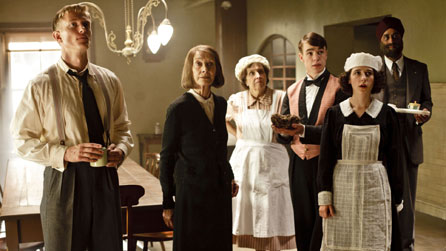 I have to admit that I was profoundly underwhelmed by the prospect of Christmas telly this year. The big shows seemed to be The One Ronnie and Lucas and Walliams's new show Come Fly With Me, and that really didn't fill me with excitement. Luckily, as it turns out there have already been one or two diamonds among the rough.
It's funny how Twitter can give you a false idea of what a show is going to be like. My stream suggested that this new Upstairs Downstairs was going to be a dull old thing, with turgid dialogue and deathly slow pace.
But I loved it.
Eileen Atkins, as master of the house Lord Hallam's mother, is unsurprisingly brilliant. Wonderfully, she keeps a monkey that applauds her every morning,  and I would applaud her every morning too if I could — she is absolutely the best thing about this, just as she is pretty much the best thing about everything she appears in.
The script might be a little exposition-heavy, but I loved Heidi Thomas's witty dialogue in Cranford, and I love it again here. Favourite line? "He's hardly the King, is he? I've seen him coming out of a bank."
Top class comedy
Because they're the Royle Family, right? Royals are top class? No, doesn't really work.
Since the heart-breaking episode The Queen of Sheba, in which Nana passed away and Sue Johnston proved herself to be one of our most brilliant actors (comic or otherwise), writer/performers Caroline Aherne and Craig Cash have been careful to keep it light for the Christmas specials.
But the fact is, this comedy is at its best when sadness is nestled right up to joy, and we had that again this year, as next door neighbours Joe and Cheryl (the ace Jessica Hynes) reminisce about the late Mary Carroll.
Laugh out loud funny for the most part, but full of pathos, this was the Royle Family back at its absolute best. And with Antony's pregnant partner Saskia wincing with pain in the last seconds of the episode, I think we might have another emotional instalment to come sometime this year…
Doctor Who Christmas Special
I got bored of the puns. In a matter of a few years, Doctor Who has become an essential part of the Christmas Day ritual, just like missing the Queen's speech because you're still on the cheese and biscuits course, or dozing in front of one of the many Shrek movies.
This year, Steven Moffat got to do his beloved timey-wimey stuff by casting the Doctor as the Ghosts of Christmas Past, Present and Future to a miserly old man who just happened to be the only person who could save a spaceship — and its 4000 passengers — from crashing.
There was a really nice absurdist Hitchhiker's Guide feel to the episode, and some gorgeous lines as ever but I have to say that it never really took off for me… still, the next series looks spectacular. Take a look.
And check out Nick's full review of Doctor Who A Christmas Carol.